Uber Reveals How to Be a Pleasant Passenger
Follow these rules so your driver doesn't hate you.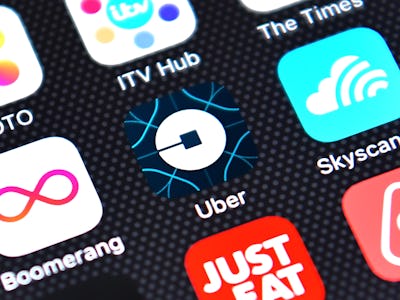 Getty Images / Carl Court
On Thursday, Uber released a set of guidelines for how to be a model passenger. The aptly titled "5 tips to be a 5-star rider" asks customers to "Be respectful," "be on time," "care for the car," "give people space," and "follow local laws." It's not exactly the most explicit or exhaustive list, but nonetheless it represents the first concrete advice Uber has issued to customers about how they should behave when using the service.
Before these guidelines, Uber had information on policies like their cleaning fees, which do give some indication of what constitutes bad behavior — and of how the customer is expected to rectify problems they caused, like damaging or excessively dirtying the vehicle — but these rules are only applicable in specific scenarios. There's also the fact that Uber drivers have the ability to rate their passengers just as passengers can rate them. This existed as a sort of vague deterrent against being a jerk, a mutual agreement between driver and passenger. Finally, people will no longer have to live in ignorance about how to be a good rider — if that was ever something people didn't already know.
It must be noted, however, that these guidelines are likely an effort to clear up communication between the company and customers. They also might be an attempt to use transparency as a way to fix up their image considering recent negative press. There continues to be news coverage of drivers being accused of sexual assault. And over the past year, Uber has faced questions about whether its service is safer than a normal taxi, even if it is cheaper and more convenient.
Uber is currently involved in a dispute with the state of Maryland, in which it is threatening to pull out of the state entirely — a move that would seriously affect its presence in Washington, D.C. — if the state goes through with new security regulations. Maryland lawmakers want Uber to require its drivers undergo finger-print based background checks. Doing this, the state says, would enhance the safety of its passengers. Uber has said in response that "state records accessible by fingerprint are not as comprehensive as proponents claim. They don't include, for example, DUIs and out-of-state offenses, a particular concern for drivers in Maryland who often serve the District and Virginia as well. Rap sheets, witnesses said, also paint an incomplete portrait of a person's criminal history and produce false positives that disproportionately target people of color." It maintains that its existing security measures are sufficient.
Whether or not Uber actually does leave Maryland, the behavior of its passengers may just be the least of its concerns.