Batgirl Artist's Motorcycle Drug Addiction Comic Is Brutal AF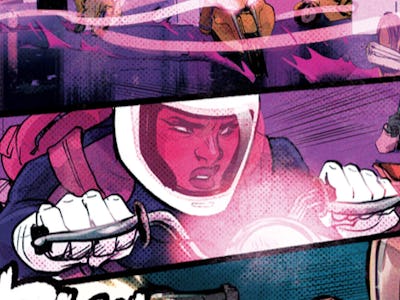 Image Comics/Babs Tarr
Domino Swift dodges bullets and breaks records in Motor Crush. The artist that made Batgirl comics great again, Babs Tarr, has moved on to her own project with fellow story writers Brenden Fletcher and Cameron Stewart. Image Comics, the ultimate creator-driven comics publisher out there right now, is now publishing Motor Crush, of which the first issue went on sale today, December 7.
The story focuses around Domino Swift, a rising star in the motorcycle racing circuit — her father, Sullivan Swift, is a former champ and now owns a repair shop as he helps Domino train and get her name out there. The first issue has Domino being stalked by tiny floating camera orbs called "catballs," which are always looking for an interview to livestream.
The catballs seem capable of finding Domino and her fellow racers anywhere. They're not overly thoughtful about privacy.
But the cushy life of a professional racer isn't the only one that Domino leads. By night, she competes in illegal street races against various gangs, none of whom know her real identity. She keeps a pink-visored helmet on at all times. The best part of her illegal racing habit: She's good at it. She's great at it. The worst part: The prize for winning these races is Crush, an illegal drug that seems to act as a stimulant.
The comic, which turns streamable sport into a storytelling device, indicates early on the dangers of Crush. A "memorial" reel shows that racer Uri McLaren died in a Crush-related crash and is accompanied by a World Grand Prix warning to "say no to illegal accelerants."
Later in the issue, Crush is revealed as highly dangerous when taken in large doses. But a lot is left up to the imagination, and the "normal" effects aren't yet revealed.
The coloring of the issue is as expected: laced in neon shades of pink, blue, and green. The characters are emotive and the action scenes are heart-stoppingly, brilliantly fast-paced.
Tarr is known for her evocative, immersive art style. She was renowned as bringing new personality to Batgirl in Batgirl of Burnside, and, clearly, she's brought the same enthusiasm and life to her project alongside Fletcher and Stewart.
Motor Crush #1 is currently available for purchase.