'Batgirl' Artist's New Motorcycle Comic Looks Bright And Raw AF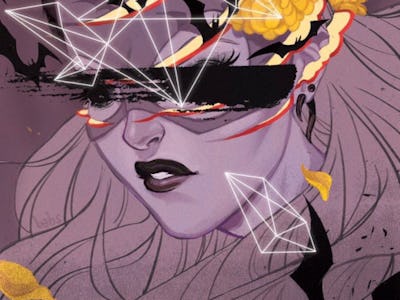 Babs Tarr/babsbabsbabs.com
Babs Tarr, the artist who illustrated DC's Batgirl into being popular, bright, and badass again, has moved on to a new, neon-lit project which features the images she loves most: "tough chicks and leather jackets and motorcycles."
Motor Crush is the story of Domino Swift, a motorcyclist who competes in a worldwide racing league. "By night, she cracks heads of rival gangs in brutal bike wars to gain possession of a rare, valuable contraband: an engine-boosting 'machine narcotic' known as Crush," according to the Image Comics website.
After rising to fame for her unusually bright hues and oversaturated artwork, Tarr and her Batgirl collaborators, Brenden Fletcher and Cameron Stewart, came together at Image Comics for Motor Crush. Image Comics was founded in the '90s by artists much like Tarr who wanted more artistic freedom than large publishing houses such as Marvel and DC allowed.
In fact, in an interview with The Washington Post, Tarr says she was confident she could have stayed and worked on DC's Batgirl forever, and that she was approached with an open-ended job offer by Marvel. The comic giant asked her, "What do you want to do?"
"But she knew Motor Crush would be her next project," The Post writes. "The chance to once again work with Fletcher and Stewart, this time on a project they would own the rights to, was too much for Tarr to pass up."
And the result looks brilliant so far. The first issue of Motor Crush doesn't drop until December, but if it's anything like the previews we've seen (and like any of Tarr's other work) then we're in for a treat.
Tarr's work is bold and bright, and shows a side of comics that we rarely get to see. Her version of Batgirl was young, stylish, and brilliant. She belonged more to the young, millennial generation than ever before — shamelessly taking selfies with her female friends and posing in hazy, candy colored photo booths.
Now that Tarr, Fletcher, and Stewart have creative control of their own work with Motor Crush, we'll probably get an even more uninhibited look into Tarr's world — even more than her Tumblr page allows us.
Motor Crush #1 arrives on December 7 in digital and print.