The 6 Best Image Comics Premiering Later in 2016
Prepare yourself for the new comics out of San Diego Comic Con.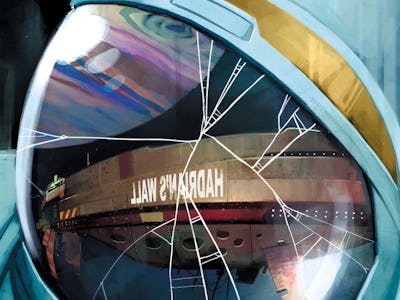 Image Comics, Rod Reis
With summer nearing to a close, and San Diego Comic Con this week, big comic book publishers are gearing up the new titles for future release later this year. No comic book publisher is as unpredictable as Image Comics, thanks to their creator-owned, anything-goes structure.
While there have been many excellent Image comics published this past year –among them Paper Girls, Descender, and The Wicked + The Divine – the rest of 2016 will introduce new series for comic fans to start constantly talking about. Here's a list of the hotly anticipated, brand new, comics Image will release later this year, either in the summer or fall.
Hadrian's Wall
From the team of Kyle Higgins, Alec Siegel, and Rod Reis comes a sci-fi, psychological thriller titled HADRIAN'S WALL. Simon Moore is a detective sent out into space to investigate a murder on a the eponymous space ship. One of the crew members is his ex-wife, which further complicates Moore's lifestyle as a hard-boiled, pill addicted detective. Expect noir tropes transported to outer space.
Their previous work, C.O.W.L. was a BioShock-esque take on a 1962 alternate past that starred a Chicago worker's union who fought back against organized crime and a cabal of supervillains. As long as the team's ability to mix-and-match genres and settings remains, Hadrian's Wall should be another gorgeous mash-up.
Glitterbomb
Announced at Image Expo, Jim Zub's upcoming horror comic about a failed Hollywood star turned supernatural creature. Preview images showcase a disturbing, full-on horror story with Cronenbergian overtones. With the recent release of Neon Demon, Zub's Glitterbomb might join the recent trend of horror stories set in Hollywood, CA where fame and monstrosity go hand-in-hand.
Jim Zub has been busy with Wayward a series that took a western approach to both Japanese myths and anime culture. While that book wasn't a horror story by most definitions, it did build a fantastic, Miyazki-lite world.
The Wicked + The Divine 1831
Technically a one-shot of an existing title, The Wicked + The Divine 1831 story is too novel, and too exciting to ignore. As the gods featured in the current run of Wicked + Divine have gone through multiple reincarnations, this story focuses on their incarnations as Romantic poets in the 19th century and the story behind Mary Shelley and Lord Byron's descent to Lake Geneva, a real gathering spot for 19th century artists and bohemians.
Fans of the comic who double as literary or history buffs should delight in seeing the popular comic series turn back the clock.
Motor Crush
After their wildly successful Burnside run of the reinvented Batgirl comic for DC Comics, Cameron Stewart, Babs Tarr, and Brenden Fletcher will be working together on their original comic Motor Crush. The story follows punk underground motorcycle racer Domino Swift as she tries to acquire machine narcotic called "crush". Originally just a concept for a nondescript racing comic, the story eventually grew to include multiple street gangs with their individual styles and look. Expect the same energy and style the team brought to Batgirl. Bab Tarr even joins Stewart and Fletcher for writing duties.
Seven to Eternity
Rick Remender, Jerome Opea, and Matt Hollingsworth team up to bring a story about Adam Osidis, a knight of a disgraced house who is trying to kill an evil God he made a Faustian pact with. Osidis will have to overcome many trials, including his slow death to accomplish this feat.
The dark fantasy world is sure to delight fans of mystic realms and terrifying creatures. Even if the main character sort of resembles Mad Max, his mission to traverse the world and kill a god should give readers enough excitement as the preview pages showcase a variety of fantastical landscape and inhabitants.
Snotgirl
Readers can pick up Snotgirl this week. The long awaited regular comic from Scott Pilgrim creator Bryan Lee O'Malley and artist Leslie Hung. While details are still a bit of a mystery, it will star a social media diva named Lottie Person whose gross allergies seem to be a manifestation of her extreme personality and neuroticism. Expect crazy entertainment as a result of bodily fluids and examinations of the psyche as made manifest by snot.