6 Great Fantasy Comics, from 'Thor' to 'The Wicked + The Divine'
Not your parent's sword and sorcery.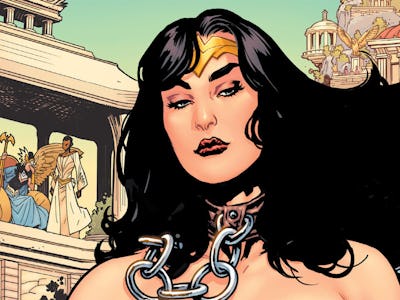 DC Comics
We probably don't have to tell you how many good comics are currently being published. With comics on literally every platform, there's no end to all the different stories creators are telling these days. Fantasy comics, in particular, have long been a staple of fiction, and are no exception in the comic medium.
Perhaps the hardest and easiest thing about this list of fantasy comics was excluding Brian K. Vauhan and Fiona Staple's long running, still amazing comic, Saga. Don't get me wrong, Saga is still probably one of the best comics around. But there are plenty of other fantasy comic options both independent, and mainstream, to choose from if you're tired of hearing about Saga. If you're wondering why friends keep telling you to read Saga, then you probably should have listened to them by now.
Anyways, here are a list of few fantasy comics still running, that you should check out right now. The list has been narrowed down to comics that should be considered strictly fantasy, but that in and of itself doesn't mean these comics stick with solely dragons and armor.
The Wicked + The Divine
Imagine mythical gods as celebrities and pop stars. The Wicked + The Divine is another one of those comics that end up on everyone's must-read list and for good reason. It's fantastic. Hugely ambitious, this sprawling series follows a young teenage girl named Laura as she comes into contact with a Pantheon of reincarnated deities who gain worldwide fame and powers in exchange for their deaths in two years.
Layered, multi-arced, and gorgeously illustrated. The Wicked + The Divine has a lot to offer for a wide variety of fans. Whether it's music, history, mythology, and/or pop-culture drama, readers would do well to check out the fantastic Image series.
Rat Queens
Unfortunately, Rat Queens has been dogged by some scandals pertaining to its creative team as of late. While this recommendation comes due to the fact the series is one of the funniest, female led fantasy comics currently running, it's totally reasonable to perhaps be hesitant as a result of the series' creator drama.
If you do decide to pick up Rat Queens you'll encounter a guild comprised of some of the funniest, rudest, charming band of ne'er do wells to ever grace fantasy fiction. The actual series is currently on hiatus, but if you wish to read the existing issues, you won't be disappointed with the humor and action Rat Queens expertly melds together.
Thor
There is a scene in the current Thor, where the goddess of thunder barges into Asgard and challenges Odin to a fight. In that singular moment, both Jane Foster's Thor and the comic book with her name became the most exciting fantasy book offered by Marvel.
The hullabaloo surrounding replacing Marvel's most famous man god with a woman has mostly died down (I think), but that doesn't mean the team behind Thor is content with just pushing forward any old Thor story. Foster is kicking serious ass and her one woman war against Asgard is one of the most hearthumping story arcs in recent memory.
Lumberjanes
What began as a typical summer at an all girl's summer quickly incorporated mystical deities, fantastic beasts, and other supernatural anomalies. Through it all however is a great comic that isn't afraid to tackle surprising subjects with the same warmth and affection the characters show for each other. Originally planned as an 8-issue miniseries, Lumberjanes is now one of the more popular ongoing series from Boom!
Another Castle
Imagine if Princess Peach was a BAMF. That's Another Castle in a nutshell. Kidnapped by a skeezy, evil overlord, Princess Misty quickly finds out that it's up to her to save herself and her own kingdom after her prince turns out to be a wuss. Pretty much the actual adaptation of a role-reversed fairy tail, Another Castle subverts its Candy Crush palette with some fantastically designed characters, and a jovial, if biting take on what a princess could achieve on her own if given the opportunity to wield her own sword, instead of some incompetent prince. He wields a two-handed blade with one dammit! That's not right!
The Legend of Wonder Woman
If there's any comic that could be described as a surprise, it would be DC's digital-first Legend of Wonder Woman comic. A sort of prequel, alternate take on the character, Legend of Wonder Woman acts as a sort of origin story for the character, from childhood to young adult. It manages to mine a lot of new material for the Amazonian warrior, as she's typically portrayed in her fully formed incarnation. This comic does for Wonder Woman, what Christopher Nolan's Batman Begins did for the caped crusader, and thanks to consistent sales and critical praise, the miniseries is now ready for a second season of issues.