Why Batman Is Not Going to Like Batgirl's New Boyfriend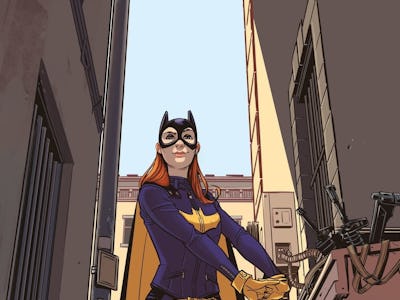 DC Comics, Christian Wildgoose via CBR
This Wednesday, DC Comics revealed some details about the upcoming Batgirl #7. Aside from returning to Burnside, Batgirl's new boyfriend might end up causing some problems with her own family — considering she'll be dating someone named Ethan Cobblepot.
Alongside an announcement that Gotham Academy artist Christian Wildgoose will be taking over for exclusive DC artist Rafael Albuquerque, DC Comics revealed a synopsis for their newest story arc, "Son of Penguin." Returning to Burnside after a stint in Asia, Batgirl discovers that the city she staked her reputation to is not the same city she left behind. She immediately meets new threats, and also runs into an attractive techie named Ethan Cobblepot, who may or may not be evil, considering his dad is Oswald Cobblepot, aka the Penguin.
After a critically acclaimed Batgirl series from Brenden Fletcher, Cameron Stewart, and Babs Tarr, the series was given to graphic novelist Hope Larson and Rafael Albuquerque. Batgirl's most recent issue follows her journey through Asia, this time in Seoul, South Korea where she continues to expand her skill set in a foreign country.
Whether it's learning a little underground MMA or crossing paths with a pan-Asian crime syndicate, Batgirl's Asia arc feels like a fun mix between a travel show and a classic Batgirl story. It will, however, be good to see Batgirl back in Burnside. The city is a not-so-subtle stand-in for Brooklyn, New York, and it'll also be interesting to see if "techie" Ethan Cobblepot is every bit the Silicon Valley stereotype he's implied to be.
No release date yet for Batgirl #7, but check out the promo art for Wildgoose's take on Batgirl.