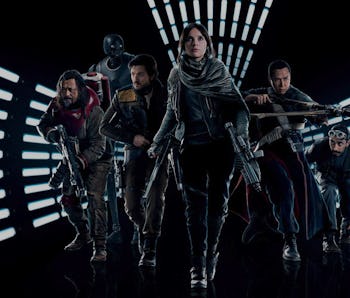 Entertainment
Early Viewers Say 'Rogue One' Is "Gritty as Hell" and Fantastic
Disney/LucasFilms
The countdown is on, with two weeks to go until Rogue One: A Star Wars Story hits theaters. While Lucasfilm has not yet released the entire film to critics, the company did offer a sneak peek today at Lucasfilm in San Francisco. Attendees were treated to an exclusive look at 28 minutes of the film followed by a special discussion with the talented folks behind the camera. So far, early viewers have taken to Twitter to share their thoughts, with many describing the film as "fantastic" and "gritty as hell."
Official early reviews of the film as a whole aren't expected to before next week, we'll be sure to break those down when they become available. Right now, we're feeling optimistic thanks to the flood of encouraging reactions on Twitter.
Today's event follows another special screening on Friday that took place at the Skywalker Ranch. Many fans were concerned when talks of reshoots emerged, but despite any production issues that may have arisen, the film appears to be nothing short of fantastic.
In the most recent trailer, which dropped last week, we saw K-2SO — a droid voiced by Alan Tudyk — providing a bit of humor amid action-packed battle scenes. While he may be less adorable than R2-D2 and BB-8, his performance as the duty-driven droid is sure to be crowd pleasing.
The film, which is directed by Gareth Edwards and stars Felicity Jones, Riz Ahmed, Alan Tudyk, Diego Luna, Ben Mendelsohn, Donnie Yen, Mads Mikkelsen, Jiang Wen, Forest Whitaker, hits theaters nationwide on December 16.
In the Star Wars universe, the end of Rogue One takes place ten minutes before the first events in A New Hope. As such, Lucasfilm executive, Kathleen Kennedy is hoping the movie can be a real introduction for those folks who are new to the Star Wars universe. (Yes, they do exist).
Kennedy also tells viewers to not get too attached, as it's unlikely any of us will see our favorites from the movies popping up in any future installments of the epic space drama.
During the Q&A session, Edwards discussed receiving the highest honor any Star Wars director could hope for: George Lucas's approval. He joked with the audience, saying he could now die a happy man.
The cast and crew also regaled audiences with humorous anecdotes from their time on the set. Including the fact that Ben Mendelsohn — who happens to be a HUGE Star Wars fan — was slightly intimidated working with Darth Vader and tried like hell to control his inner fanboy whenever the Sith lord was on set.
He was also known for serenading fellow castmates in between takes.