Use This Tool to See if You Need an iPhone 6s Battery Replacement
And if you're eligible for a free one.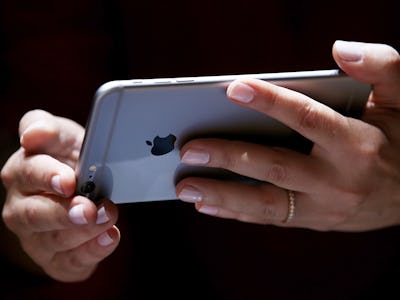 Getty Images / Justin Sullivan
You might need a new iPhone battery. Apple said in November that a manufacturing error is responsible for some iPhone 6s devices unexpectedly shutting down for apparently no reason, and it's offering free replacement batteries to anyone who purchased one of the malfunctioning products. That's great! But how can you find out if you qualify for the program?
The previous answer was to visit an Apple store or one of the company's approved repair shops, have them examine your battery, and decide if you should get a new one. The only alternative was to find your iPhone's serial number and see if it included a line of characters used in the problem devices. Now there's an easier way: Just use the new online tool made by Apple.
You still have to look up your serial number, but now Apple will examine it for you to determine if your device is eligible for a new battery. All you have to do is go to Settings > General > About and find the Serial Number section. Then type your serial number into this form on the Apple website. Apple should almost immediately let you know if you can take advantage of this new program.
It's also worth double-checking to make sure you're using an iPhone 6s — the device is very similar to the iPhone 6 — that was manufactured in September and October 2015. If you bought the phone before that, or if you have a different model of iPhone, then no amount of battery trouble is going to make you eligible for a replacement battery under this particular initiative.
If you do qualify, you should immediately prepare to have your phone fixed. You'll want to back up the device, clear its information, and make sure you have a phone you can use in the meantime, among other things. This will make the wait for the new battery a bit easier.
If you don't qualify but your iPhone still unexpectedly dies, you might want to make sure it's not too freaking cold. The device, like other phones, struggles during the winter months and will often shut off because the battery isn't warm enough to keep giving power to the rest of the phone's hardware.
Another option is to contact Apple directly. Your battery might have been damaged, or the manufacturing issue might have affected more devices than the company expected. Letting its customer support team know about the issue could help other people with the same problem find a resolution. (Just don't hand over your device until you know how much you'll pay for any repairs.)
Either way, just be happy that your phone's battery a little underwhelming rather than explosive.