What Will President Obama Do to Fight Climate Change After Leaving Office?
The President is tilting toward the activist's path as a private citizen.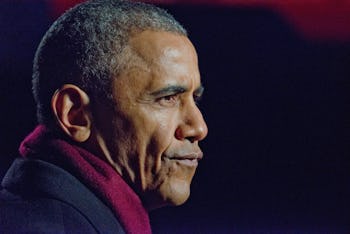 Getty Images / Pool
Like all presidents before him, Barack Obama will soon return to life as a private citizen and join what is perhaps the most exclusive club in the world. As was also the case with past presidents, speculations abound about how Obama will choose to spend his time. At only 55, he's the youngest president in a number of cycles to enter the post-presidency, and it's a safe bet that he'll dedicate several of his next years to combating climate change.
Since the election, the Obama administration has been focused on facilitating the transfer of power to President-elect Donald Trump, and Obama has refrained from criticizing him. Even as his democratic colleagues rail against the president-elect, Obama is, at least for now, maintaining the transitional norm that past presidents have set: Take a step back and give the new guy a chance to govern. But that doesn't mean Obama will be sitting on his hands once he's out of office. This is especially true when it comes to climate change, an issue Obama has made a priority throughout the second half of his presidential tenure.
Obama's recent actions signal that he will continue along this path. He has followed through on that prioritization in a number of ways that include the Paris Climate Agreement — which is already having a noticeable impact — and ensuring that climate change is also recognized for the national security risks it poses.
With a well-documented background as a community organizer, the 44th President is poised to carry on efforts to raise public awareness about this most crucial of challenges. Already, he has taken shots at fake news sites, casting blame on them for stifling progress on climate change by misinforming the public. That Obama would abandon this cause after leaving office seems low when considering the threat Trump presents to key pieces of his legacy like the Paris Agreement.
Speaking of that legacy, Obama's original plan appeared to be to just hand over the keys to the next president and sit back as the country continued along the path on which he'd set it. But that plan revolved around the belief that Hillary Clinton would be the one to succeed him. Now that it's Trump, the plan is subject to change depending on the policies that Trump pursues. Of all Trump's promises, his willingness to dismiss and disregard climate change might prove to be the catalyst for some harsh criticism from the soon-to-be-ex-president.
While Senate Democrats, now led by Chuck Schumer (D-NY) are seemingly ready to come to the table with Trump in the name of common ground and productivity, Obama will not be constrained any longer by the expectations attached to politicians. He'll be freer than he's been in eight years to speak his mind. With his approval rating sitting at an impressive 53 percent, there's potential for Obama to reach a large, willing audience who are more primed to listen to a likable private citizen than to a democratic president with all the baggage that's part and parcel for such a title.
As of right now, Obama's post-presidency is shaping up to look a lot like that of Jimmy Carter, who enjoyed both higher approval ratings and an arguably even larger global impact after he left the Oval Office. Obama may even find an unlikely ally in this endeavor in the form of Ivanka Trump. She recently stated her intention to make climate change a "signature issue." What that actually means remains to be seen. But if Ivanka is serious about addressing the issue, she could become a valuable White House contact for Obama, who could more readily command the ear of her father. Regardless of with whom he allies, making these connections will be important if Obama wants to retain the ability to influence policy.
Beyond outreach to President Trump himself, it wouldn't come as a surprise to see, within the next year or two, Obama undertake an aggressive and possibly international speaking tour to raise awareness about global warming and build public support for combating it. A non-profit in the mold of The Clinton Foundation wouldn't come as much of a shock, either — it may even be exactly what the planet needs.