Porsche's CEO Has Very High Hopes for All-Electric Mission E
But don't say it's a response to Tesla.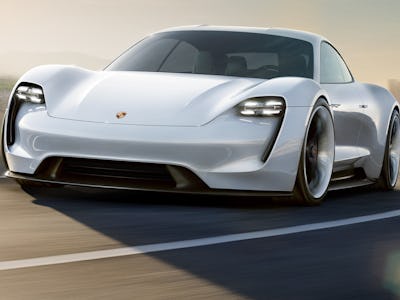 Porsche
Porsche has very big expectations for its entrance into the electric vehicle market. The company revealed a concept vehicle called the Mission E in 2015, and now the automaker's CEO has said that he expects to sell 20,000 units each year after the car debuts in 2019.
Some aspects of the Mission E have been shared with the public so far: Porsche has said that the car will have a range of about 310 miles (comparable to Tesla), thanks to its usage of lighter copper cables, and that its 800-volt charging abilities will allow its lithium-ion battery to reach 80 percent battery life 15 minutes after it has been plugged-in. The vehicle will also use inductive charging technologies to automatically recharge its battery whenever it's parked over a coil in a garage floor for more than a few hours at a time.
The company also announced that Mission E will have a 440 kW system power output that will allow it to accelerate from 0 to 100 km/h (0 to 62 miles per hour) in 3.5 seconds. More than 1,000 jobs are expected to be created as Porsche expands its engine factory to create electric motors, builds a new paint and assembly shop, and invests 700 million Euros into the main site in Stuttgart-Zuffenhausen, Germany.
Other details about the Mission E are scarce. Porsche hasn't revealed where the car will be available, offered a timeframe for its release, or said how much it will cost when it debuts. The luxury & sports car company's price range is $50,000 to $200,000, excluding its ultra-high end.
Not that Porsche wants anyone to think the Mission E is a response to Tesla's rising popularity. "We don't do a car because Tesla has done a Model S," the automaker's global head of research and development, Wolfgang Hatz, told the Los Angeles Times. "We have our own plans. The time was not right before now to bring a pure battery car onto the market. But now the time is right."
If that's true, it seems that many luxury vehicle makers simultaneously decided to start examining futuristic cars. BMW is also working on electric vehicles and not-quite-calling-out Tesla in its advertisements, for example, while Rolls-Royce is building A.I. into a car that drives itself. Surely that doesn't remind anyone of a Tesla feature.
Coincidences aside, it's clear that Porsche is jumping right into the electric vehicle market. Oliver Blume, the company's CEO, told Automobilwoche on Sunday that the company has calculated orders of 20,000 units a year when the Mission E debuts. That's one-tenth of the 225,000 cars the company sold worldwide in 2015; clearly Porsche wants its first all-electric vehicle to become a major addition to its menu of German automobiles.
"When we introduced the Mission E concept car at the Frankfurt Auto Show last year, we stated that a production version would be introduced by the end of this decade," a Porsche spokesperson tells Inverse. "We have made no announcements on pricing yet, I don't expect that to happen until much closer to the actual launch date." The spokesperson did not respond to a follow-up question to confirm the 20,000 figure Blume offered on Sunday.