Ranking the 15 Best Carrie Fisher Tweets by Level of Pure Fire
The 'Star Wars' actor and her service dog, Gary, know how to make a mean tweet.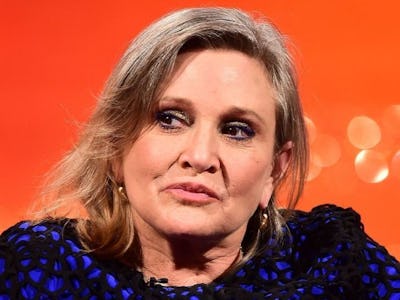 Digital Spy
All hail Carrie Fisher. The Star Wars actor has been winning over the hearts and minds of audiences since she first appeared as Princess Leia Organa in 1977's Star Wars: A New Hope. Her reprisal as General Leia in 2015's The Force Awakens renewed public interest in Fisher — and in her Twitter account.
Fisher's tweets are known to be a smorgasbord of random, wacky, and weirdly poignant statements despite their usual lack of context. She often tweets about her struggles with mental health, most commonly turning her struggles with bipolar disorder and her previous addictions to cocaine and prescription medication into punch lines. Her signature tactic of using emojis and symbols as letters to create entire tweets often brings pause as you try to interpret what the hell she's even talking about. Usually, it's something innocuous. But Fisher joined Twitter in 2009, so the 60-year-old actor and her service dog, Gary, have a pretty good grasp on what they're doing online.
15. Asking the real questions.
14. The lack of context is truly inspiring.
13. Shutting down the haters.
12. Honestly, Carrie is all of us.
11. She is always self-aware.
10. Need some ice for that burn?
9. Carrie is one of the top anti-Trump voices online.
8. And she's not messing around.
7. Seriously, guys, she is not fucking around.
6. Same, though.
5. Eternally bitter queen of our hearts.
4. She's always quick to show appreciation for Star Wars.
3. Really, any tweet featuring Gary makes life better.
2. Are you okay, Carrie?
1. Someone just give this woman what she wants.