Amazon Announces Cyber Monday Details for Its Echo
Don't want to fight crowds on Black Friday? No problem.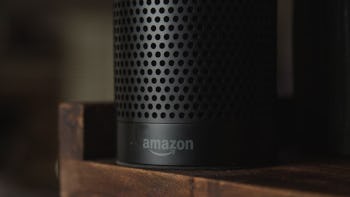 Amazon
Shoppers around the world know that the best deals can usually be found in stores on Black Friday. But don't go spending all your Christmas money just yet. Today, Amazon.com revealed its plans for Cyber Monday, and the deals promise to be every bit as enticing as the ones for Black Friday, but shoppers won't have to deal with crowded storefronts. The online retailer says there will be over 75,000 deals starting on Monday, with new deals every five minutes — including their popular Echo devices.
This time last year, Amazon reported that customers around the world ordered more than 54 million items — that's a staggering 629 items each second — and this year they expect to surpass those numbers.
Amazon's Alexa-powered Echo, is like a Star Trek computer for your home, able to answer questions, control other household devices, and even tell corny jokes. The device has been going for $179.99, but on Cyber Monday, you can snap one up for only $139.99. Pair that with a couple hockey puck-shaped Echo dots for $39.99 each, and you will have a fully-functioning smart home in no time. Unfortunately, you will still have to make your own coffee.
If the sleek, black design of the Echo products just doesn't do it for you, Amazon will allow you to transfer the smart assistant into other devices, as the company recently opened up Alexa's API to developers. So far, we've seen Alexa turn a talking wall-mounted fish, into a creepy robotic terror. But really, you can now turn any device into something a bit more practical, thanks to Alexa.
Also of note in the Cyber Monday deals, are Amazon's Dash Buttons, which lets consumers order various household items at the click of a button. On Monday you will be able to order a variety of buttons for just .99 cents each, and as a bonus, customers will receive a $4.99 credit back after their first purchase.
Amazon says new deals will be added constantly and that consumers can download a special, free Amazon shopping app that will help track deals via special alerts. Head over to Cyber Monday, and preview some of the hot new offers before the sales officially kick off on November 28. As always, if you want to give back while you shop, just go over to Amazon Smile and pick out your favorite charity. Every time you shop, Amazon will donate a portion of the profits.