Amazon Debuts Its Alexa-Enabled Echo Dot
The voice command enabled home of the future can't come fast enough.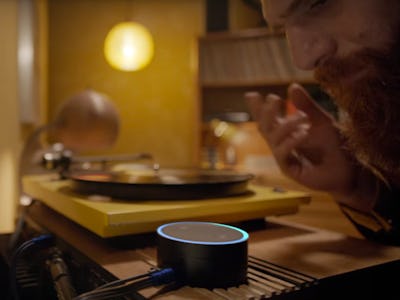 YouTube
Amazon announced a pair of devices today that will take on Siri in the heightening battle for control of your future apartment.
The Amazon Echo Dot, the cheaper of the two Alexa-enabled devices, runs just $89.99 but is only available for Prime members who already own an Echo or an Amazon Fire TV.
If you meet those requirements, you can pick up the hockey-puck bodied Echo Dot, which will extend the Amazon Echo's existing voice recognition technology across your house from room to room. You need to plug it into external speakers to get a home fully wired, but once you're hooked up, you can ask it to rundown your day plan for you, tell you to call yourself an Uber, but not, unfortunately, anything more complicated than Echo already offers.
In this video, Amazon encourages you to think of Alexa as your personal secretary, except you can't get it to fetch you coffee:
The Dot does have a small built-in speaker allowing it to hear you from across the room and includes far-field voice recognition "even while music is playing." It can also be used to control smart home connected devices like lights and thermostats, and is compatible with connected devices including ones from WeMo, Philips Hue, and Samsung SmartThings. If you have more than one Echo device, you can set a different waking command for each one. Otherwise, just saying "Alexa" will do.
Unfortunately if you want high-quality speakers featured on the full Amazon Echo, you'll need to buy the also newly announced Amazon Tap, which presents you with the Sophie's choice of having high-quality sound ready to go but no voice commands without manually activation.
Unlike the Tap, which is only available for preorder, the Echo Dot is available immediately, but only if you already have Alexa. Just say, "Alexa, order an Echo Dot." The so-called Internet of Things just grew by two.