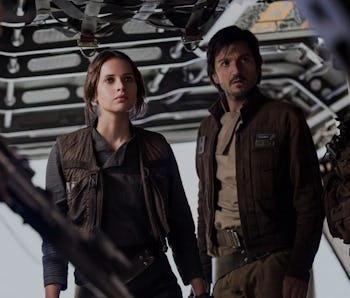 Entertainment
'Rogue One: A Star Wars Story' Tickets Go on Sale Monday
Fans should keep their eyes peeled for exclusive offers.
Disney / Lucasfilm / StarWars.com
The wait is nearly over. On December 16, Rogue One: A Star Wars Story will hit U.S. theaters, and the official Star Wars Twitter account has announced that tickets will go on sale Monday, November 28. Fans eager to snap the best Rogue One tickets will want to keep their eyes trained on their local theater website, but those looking for the premium experience should look for venues offering special screenings.
The movie stars Felicity Jones as Jyn Erso, who teams up with a group of Rebels to steal the plans for the Death Star. Ending about ten minutes before the 1977 film, A New Hope, is set to begin, Rogue One represents uncharted territory for the series. It's the first live-action spin-off film in the franchise, and anticipation is high for a new generation of filmmakers to push the tale of a galaxy far, far away in an exciting new direction.
Regal Entertainment Group is offering the ultimate Rogue One ticket for $100 plus shipping, an anodized-steel black ticket that's laser-etched with the owner's name. Limited to just 1,000 tickets, the holder is entitled to see the film every day for the movie's entire run in theaters. That covers 3D, RPX, and IMAX screenings.
IMAX has confirmed that, after 12:01 a.m. Eastern, Rogue One tickets will go on sale via the online store. It's the ideal way to get a top-quality viewing, as along with the higher resolution offered by an IMAX screening, the theater will be offering both 2D and 3D editions.
AMC Theaters are offering tickets through both the website and app from the same time. However, if you're able to hold out, moviegoers who see Rogue One in IMAX at an AMC on December 18 or January 1 will receive one of three exclusive mini posters as part of the Star Wars Sunday promotion.
Cinemark and Carmike, the third and fourth largest theater chains, respectively, are also offering tickets to the film. That may work out more conveniently depending on location, and while a laser-etched ticket may sound like the coolest thing in the world, it won't be much good without a Regal theater nearby.
To tide you over until Monday, here's the final trailer: