'Rogue One' Definitely, Absolutely, Will Not Have a Title Crawl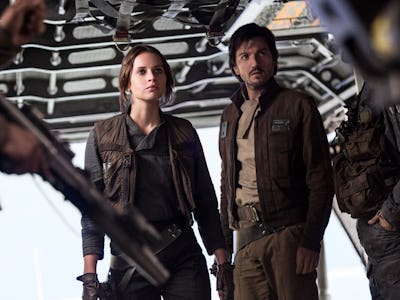 Disney / Lucasfilm / StarWars.com
That's that: Looks like Rogue One definitely isn't going to have the signature Star Wars text crawl, making it a clear departure from every other Star Wars film to date.
In an interview with Entertainment Weekly, Lucasfilm president Kathleen Kennedy talked about moving in a new direction with Rogue One and moving away from some of the elements of Star Wars that have become the hallmarks and cornerstones of the franchise.
"More than likely we will not have a crawl," Kennedy said. "We feel that that is proprietary with the saga films."
Though discussion of the crawl was up in the air for a time, director Gareth Edwards has described Rogue One as what essentially covering what's described in the crawl of Star Wars Episode IV: A New Hope. It makes sense to eliminate the crawl when we already know quite a bit about the universe and the conflict that we're entering.
Beyond the crawl, Kennedy revealed that Rogue One will be light on some of the things we might consider Star Wars tradition. Whether that changes in future stand alone films like the Han Solo film (which Kennedy has described as having a "heist or Western type feel") remains to be seen.
Just how far Lucasfilm will be able to stray from Star Wars tradition and imbue the franchise with new elements will also depend on how well Rogue One performs at the box office. Rogue One's financial success could open the doors to further experimentation within the Star Wars universe for Lucasfilm. There's already been some talk of ending the Skywalker story with the final film of the current trilogy, but for Lucasfilm, much like the galaxy far, far away, theres a lot riding on Jyn Erso's plot to steal the plans for the Death Star.
Rogue One arrives in theaters December 16.