This 'Rogue One' Primer Is for Confused 'Star Wars' Fans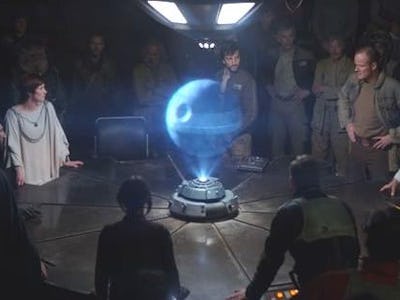 Disney / Lucasfilm
In case you're still confused about the premise of Rogue One, a new primer should help clear up that Jyn Erso is NOT Rey and her team of Rebels are the spies who stole the Death Star plans.
This new featurette explains the finer points of Rogue One's place in the Star Wars universe and timeline. This is a new cast of characters with a new mission covering a part of the Star Wars story that we've only really read about before.
"The simplest way to explain it is that text you see at the beginning of A New Hope? That is essentially our movie," explains director Gareth Edwards.
Rebel spies, stealing plans for the Death Star. It's all right there in the crawl of the first Star Wars movie. And Rogue One is set to explore the mission that paved the way for the events of Star Wars: Episode IV — A New Hope and everything that came after. We're even headed back to the Yavin Rebel briefing room that played a pivotal role in later attempts to destroy the Death Star and cripple the Empire.
"Through their journey we see the formation of the Rebel Alliance and the stealing of the Death Star plans," says Edwards.
Jyn Erso is at the heart of the film, assembling a small but mighty team for the job. Rogue One is essentially the origin story of the Rebel Alliance, and it begins with Erso's team.
"They achieve what they achieve, because they achieve it together," says Felicity Jones, who plays Jyn.
Though their small team may be vastly outnumbered by Imperial troops with far superior firepower and the most dangerous weapon in the galaxy, we already know that their Herculean efforts ended up (eventually) saving the galaxy.
Rogue One arrives in theaters December 16.