Instagram Will Have Live Video in the "Next Few Weeks"
Instagram is looking a lot more like Snapchat every day.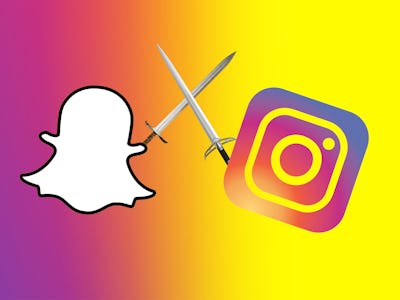 Snapchat / Instagram / PNGIMG
On Monday, Facebook-owned Instagram announced that it would keep attempting to eat Snapchat's lunch. Instagram will soon offer disappearing photos and videos, which differentiated Snapchat in the market. Instagram will also roll out Live Stories over the "next few weeks," which will make these in-the-moment updates far more immersive — users will be able to share, like, and comment on events live, as they occur.
The feature is just what it sounds like, and pretty much the same as Facebook Live, but here it is in Instagram's own words: "It's easy to go live — just swipe right from feed to open the camera, tap the 'Start Live Video' button and start sharing for up to an hour," the company announced. Comments can be pinned or turned off completely. "During the broadcast, you can comment and like as much as you want. You can also check out new live stories on Explore." Whether you view it as a way to kill boredom or a time suck, it's coming soon.
The two companies have been duking it out for a few years. Facebook bought Instagram in 2012. A year later, Snapchat CEO Evan Spiegel rebuffed Mark Zuckerberg's $3-billion offer for his company. A rivalry was born.
Snapchat has quietly worked to incorporate some of Instagram's own attractive features, like the ability — if desired — to save particularly meaningful Snaps, with Memories. But Facebook, Instagram, and Zuckerberg have been more aggressive, hard at work to replicate each of Snapchat's few attractive features.
In early August, Instagram released Instagram Stories, a direct, blatant, shameless reproduction of Snapchat's own Story feature. As was long true with Snapchat, Instagrammers could now post less curated, more immersive updates from their lives: amusing video snippets from a dinner party, say, rather than an over-edited and highly filtered post-dinner photo. Devoted Snapchatters began to explore Instagram Stories, where there was a more robust social network.
Instagram now claims that there are "over 100 million people" who post Stories every day, compared to Snapchat's 150 million. That advantage could now shift in Instagram's favor. The disappearing photo and video update, which "will start rolling out globally today," Instagram says, is another imitation of its competitor's product, another attempt to eliminate any remaining reasons for someone to choose Snapchat over Instagram.
The Live update, however, advances the game: Snapchat has not yet released the same capability within its app, so Instagram could gain some ground against its competitor. Snapchat's been quiet about its competition so far. But its new Spectacles, which allow hands-free photo and video sharing, and offer a wide-angle lens, give it a much-needed leg up on its nemesis. Time will tell how long that edge lasts.