Facebook's 5 Biggest App Flops in Its Quest to Outdo Snapchat
by Kastalia Medrano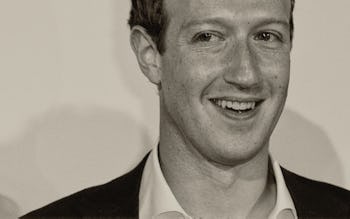 Getty Images
Facebook has tried and failed many, many times to replicate the success of Snapchat. It's resulted in a cybergraveyard of shuttered apps over the last few years, as Facebook develops a reputation for being used by the older crowd and struggles to match Snapchat's popularity with the #youths.
Now, there are rumors of the social network developing a standalone camera app to complement Facebook Live – the Wall Street Journal reported today that "people familiar with the matter" said the prototype allows live-streamed video recording and is "similar to disappearing photo app Snapchat." This means, with regard to chasing Snapchat, that Zuckerberg is trying the same thing he's tried, like, a bunch of times before.
To honor Zuckerberg's unflagging persistence in this matter, we thought we'd look back at five of the apps that have come and gone in Facebook's long quest to outdo other social media networks — particularly Snapchat.
1. Poke
Poke coincidentally appeared right after Snapchat began its rapid ascent in popularity and basically tried to copy it exactly. It was completely shameless, and one in a series of Snapchat rip-offs.
2. Riff
The video app launched a year ago and was clearly not meant for this world. "Having fun with friends is at the heart of the Facebook experience," Facebook told us in the Riff announcement, but it seems more like unoriginal and short-lived apps are at the heart of the Facebook experience.
3. Rooms
This was for sharing quotes, I think? Or maybe it was more like Pinterest: "Rooms lets you create places for the things you're into, and invite others who are into them too."
"A room is a feed of photos, videos, and text – not too different from the one you have on Instagram or Facebook - with a topic determined by whoever created the room," reads the blog post that announced the app. "Not only are rooms dedicated to whatever you want, room creators can also control almost everything else about them. Rooms is designed to be a flexible, creative tool."
Cool, that cleared it up.
4. Slingshot
Another Snapchat hopeful. This went belly up along with its parent group, Facebook's Creative Labs, which also brought us the rise and fall of Riff and Rooms.
This was to share and tag and filter and comment on and like photos on Facebook. Not sure why we needed a separate app for that, but there you go.
Funny: Facebook seems keen on creating ephemeral media apps, but what it's really good at is whipping up apps which are themselves quite ephemeral.