The Best Way to Get Into Competitive 'Overwatch' Is to Watch It
The best 'Overwatch' YouTubers and Streamers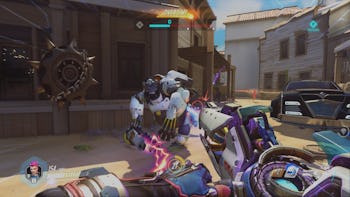 Polygon
If you're looking to jump into Overwatch, now's the time. Season 3 is gearing up to start shortly, bringing a fresh start to the competitive scene. One of the best ways to figure out who's who in competition, or even which strategies to use to improve your own game, is to learn by example. The Overwatch community has a wide range of folks creating video content to both educate and entertain. We've gathered a selection of the finest to help ease you into this vibrant esports community.
A_Seagull is a professional player for NRG esports that hosts regular streams on Twitch and maintains a very active YouTube channel. While he doesn't make any guides or instructional videos, his commentary is often as educational as it is entertaining. During the break between Season 2 and 3, he has been creating more instructional videos temporarily. He gives clear explanations of his actions in game, granting viewers a nice perspective on Seagull's tactical approach to the game.
Lassiz has a huge following on Twitch, streaming for Team Dignitas, occasionally appearing alongside Moon Moon, who's also featured on this list. He jokes around a lot, but is a seriously talented player usually focusing on Zarya. You can learn a lot in terms of strategy by watching him, despite the fact that he doesn't provide a whole of commentary in terms of tactics.
Force is a popular presence on YouTube, but his Twitch channel dedicated to Overwatch garners millions of views on its own. His streams on Twitch give a good live glimpse at advanced strategies, while his YouTube channel focuses more on in-depth commentary and analyses on Overwatch's mechanics and new updates to the game.
Moon Moon is one of the most popular personalities in Overwatch, and it's easy to see why. His commentary is often lighthearted and informative, and his channel is a well-moderated, positive space. He does educational streams from time to time, and you can find highlights on his YouTube channel.
Shayed has a smaller following than some of the other names on this list, but that doesn't make her any less skilled or entertaining. She works for Luminosity Gaming, so you'll often find her streaming with Seagull. She specializes in support heroes like Zenyatta, Mercy, and Lucio.
Representing Fnatic, Robert "Roflgator" Malecki is a pro gamer sharing his Overwatch expertise in live competitive matches. Roflgator focuses on Tracer and D.Va. He's an excellent resource if you want to learn more about how to play these two very different characters. When he's not streaming, he's busy coaching Fnatic's Overwatch team.
Koala Gaming
Matt "Koala Tactics" Adkins is all about engaging community both on YouTube and Twitch. With a positive, welcoming fan-base, Koala Gaming definitely has one of the more inviting communities in esports. Adkins often chats with fans on the go, and even hosts games with active community members. It's a great channel for players of all skill levels.
Whether these streams focus on educational commentary or pure gameplay, there's a lot to learn from each one. Overwatch is colorful and fun, but it can also be highly tactical. If you're looking to get into some serious competition once Season 3 starts after Thanksgiving, these are the channels to watch.