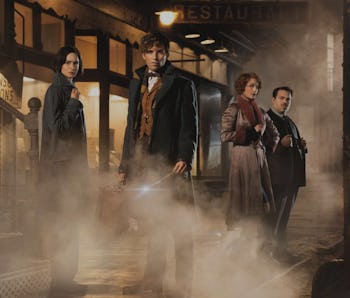 Entertainment
'Fantastic Beasts' Soars Past 'Doctor Strange' at Box Office
A wizard has defeated the Sorcerer Supreme at the box office.
Warner Brothers
Newt Scamander and his case of curious creatures captured the hearts of wizards and "No-Majs" everywhere this weekend as Fantastic Beasts And Where to Find Them claimed the top spot at the box office. The film bested Marvel's sorcerer supreme, Doctor Strange in a duel for the number one spot, earning an estimated $75 million in its premier weekend.
Fifteen years ago, audiences were introduced to the wizarding world as the boy who lived (aka Harry Potter) leapt from the pages of J.K. Rowling's popular book series and onto the silver screen. Harry Potter and the Sorcerer's Stone, the first in an eight-film franchise, earned $32 million on its first day, making it the first film to do so. In 2011, our introduction to Harry Potter and Hogwarts finished strong with a record-smashing $90.2 million in box office dollars. Since its cinematic debut, the franchise has raked in over $7.7 billion worldwide, with the final installment earning an impressive $169.1 million during its opening weekend.
Fantastic Beasts and Where to Find Them, won't achieve those kinds of numbers this weekend, but it's still slaying the competition when it comes to coveted box office numbers. This new adventure, which takes place decades before Harry attends Hogwarts, centers around Newt Scamander, a noted expert on magical creatures. Scamander, played by Eddie Redmayne, arrives in New York and unwittingly lets several magical creatures loose to run amok in the city. It is a prequel to the original storyline, expanding on the universe we already know — and even mentions characters we already know.
See also: The 16 Magical Creatures Revealed by 'Fantastic Beasts' So Far.
The film is directed by David Yates, who was also responsible for the last four Harry Potter films. It's also been a huge success overseas, earning over $50 million in just three days. Fantastic Beasts also stars Katherine Waterston and Colin Farrell, and the adventure carries a $180 million price tag. So far, the numbers have surpassed early estimates, but it faces some stiff competition with Disney's Moana dropping next weekend.