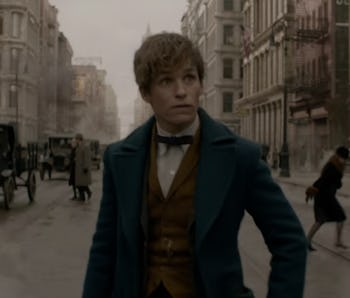 Entertainment
'Fantastic Beasts and Where to Find Them' Trailer: Newt Scamander, Magical Rebel
The 'Harry Potter' spinoff introduces Eddie Redmayne's creature expert
Newt Scamander, troublemaker, has arrived in New York.
The first trailer for Harry Potter prequel/spinoff, Fantastic Beasts and Where to Find Them hit the internet after premiering at the MTV Movie Awards on Sunday, whisking audiences back into author (and now screenwriter) J.K. Rowling's magical universe. Set in the 1920s and based on a thin supplementary book Rowling wrote, the film stars Oscar-winner Eddie Redmayne as Scamander, a magical-creatures expert whose short trip to New York turns into a wild adventure when some of his fantastical animals escape his deceptively large suitcase.
Though his official biography states that he graduated Hogwarts, the opening of this trailer suggests that Newt was kicked out of the wizarding school — despite vehement protest by one Albus Dumbledore. He goes on to become a noted authority on magical creatures, though clearly his expertise isn't enough to control their romp through New York.
Directed by David Yates, the man who helmed the last four Harry Potter films, the movie also stars Katherine Waterston and Colin Farrell, the latter of whom plays a prominent part in the trailer.
Fantastic Beasts and Where to Find Them hits theaters in November.