Trump Could Mean "Game Over" for Planet, UK Labour Party Warns
Shadow business secretary Clive Lewis warns of "a real danger."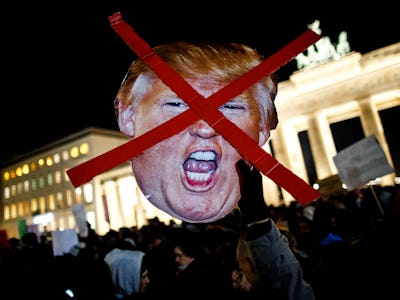 Getty Images
If you're worried about what a Donald Trump administration could mean for climate change efforts, look away now. Clive Lewis, shadow business secretary for the UK's opposition Labour Party, warned in a speech on Thursday that the billionaire's surprise victory could spell the end for environmentalism.
"There's a real danger that, without urgent action, the election of Donald Trump could mean game over for our planet," Lewis said, speaking at London's Royal Society of Chemistry. "It's time for Britain to show leadership for one of the biggest challenges in front of humanity today."
At the same speech, Lewis claimed that a future Labour government would aim for 60 percent of energy to come from renewable or low carbon sources by 2030. The current Conservative government is aiming to cut overall emissions by 80 percent from 1990 levels by the year 2050. Nick Hurd, the government's climate change minister, is expected to release an emissions reduction plan in the first quarter of 2017.
On both sides of the Atlantic, Trump's track record on climate change is causing fear among environmental campaigners. Prior to the election, he proposed making renowned climate change denier Myron Ebell head of the Environmental Protection Agency. Trump also promised on the campaign trail to cut up to 80 percent of environmental regulations to pay for tax cuts.
These moves have come at a critical time for U.S. environmental efforts. The Paris Agreement, signed by Obama earlier this year, has been described as "the best possible shot to save the one planet we've got." It depends on a combined effort from signatory countries, though, and it's unclear how committed Trump will be to maintaining reduction efforts.
A Trump administration that abandons climate goals could also impact private sector initiatives. A Change.org petition has called for Tesla CEO Elon Musk to step in and explain the concept of climate change to Trump, as Musk's efforts to cut emissions (like SolarCity) depending heavily on federal subsidies. Without these boosts, Musk's plan to help reduce climate change may be put in jeopardy.