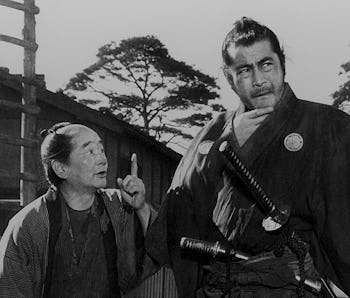 Entertainment
Ranking FilmStruck's Greatest Hits
The brand new streaming service from TCM and the Criterion Collection has a lot to offer, but here's where to start.
Filmstruck
The newest streaming service on the block, FilmStruck, is a partnership between Turner Classic Movies and the Criterion Collection that's meant to make you realize you don't have to be a film snob to love capital-C Cinema.
FilmStruck is essentially supposed to be an ever-evolving streaming platform that's kind of like a TV channel, constantly shifting with themed programs of films like banned movies, animation for adults, American remakes of foreign films, neo-noir, and more. It's a lot to take in even for the film school grad who's collected every Criterion title and read every word Pauline Kael has ever written. So, to make it a bit easier to navigate what is already one of the best streaming libraries out there, here are the best nooks and crannies of FilmStruck that are worth your while.
7. Classic Bollywood
It's not like most platforms aren't really concerned with showing examples of Bollywood films regardless of whether it is one of the biggest movie-producing industries in the world. Chances are, American audiences have probably never seen anything from the venerable Indian film industry, but FilmStruck has made their very own series showcasing the cornerstones of Hindi cinema to right that wrong.
Each film in the series has an untapped exhilaration typical of Bollywood, but they all wrestle with universal themes. From the corrupt tabloid drama of Jaane Bhi Do Yaaro, to the deaf and mute couple whose lives intersect through Bombay in Koshish, or the elaborate legal drama of Awaara — they're all very different, but very familiar at the same time.
6. World Discoveries
The breadth of the world cinema streaming selection doesn't end at Bollywood. Master filmmaker Martin Scorsese started the World Cinema Project in 2007 as a way to preserve and distribute significant films in regions that don't necessarily have the means to do so, and they've been steadily making their way to the Criterion label ever since. These rare gems and others not tied to the WCP will inevitably get even more viewers than ever before, opening up different cinematic stories and cultures to those willing to give them a try.
Highlights include The Housemaid, South Korean filmmaker Kim Ki-young's melodramatic 1960 tale of an increasingly frantic housemaid throwing a bourgeois family's life into disarray, and Norwegian filmmaker Nils Gaup's 1987 action adventure film Pathfinder about a teenager who seeks revenge on a brutal pack of hunter gatherers who murdered his family in 1000 A.D.
5. "Observations on Film Art"
FilmStruck is essentially a film school streaming platform without all the hang-ups of actual film school. But, it's good to have some kind of academic guidance when walking through the history of cinema, which is what makes the platform's ongoing series "Observations on Film Art" so fascinating.
Curated by venerated film scholars David Bordwell and Kristin Thompson, as well as author and scholar Jeff Smith, and named after Bordwell's blog, the trio chooses a film in the FilmStruck collection and dissects certain aspects of what makes their selection a true classic.
Smith narrates an introduction about the music in the first selection of the series, Alfred HItchcock's Foreign Correspondent, and points out how the master of suspense breaks the meta rules by playing with diegetic and non-diegetic melodies. If you have no idea what that means, it's worth watching to find out.
4. "Criterion Live! at the Metrograph"
New York was and is a kind of Mecca for presenting films and film talent, especially at the newly opened Metrograph theater in the Lower East Side. But, for those who aren't in the Big Apple, Criterion has introduced a FilmStruck series meant to put you in the room for the label's casual but informed events tied to a cinematic theme.
The first event highlighted the Kennedy Films of Robert Drew & Associates, classic documentaries of Direct Cinema that chronicled the rise and abrupt death of John F. Kennedy by filmmaker Robert Drew. Besides the films themselves — including Primary and Adventures on a New Frontier, which are a sobering reminder of the history of democracy in America — there's an entire talk from the Metrograph featuring legendary filmmaker D.A. Pennebaker, writer Frank Rich, and expert Jill Drew that puts the films into stunning context. Given the huge pool of films at FilmStruck's disposal, the possibilities of the series are basically endless as long as Metrograph has the time to let Criterion do their thing.
3. "Adventures in Moviegoing"
On the flipside of the academic approach to streaming art house classics, FilmStruck has thankfully introduced a series called "Adventures in Moviegoing" that puts a personal spin on someone's film-watching habits whether it's a filmmaker, actor, musician, artist, or more.
The inaugural guest is comedian Bill Hader, whose eclectic tastes range from thinking he's exactly like the kid from Ken Loach's Kes, to recognizing a shared intimate pain with John Cassavetes's A Woman Under the Influence, to empathizing with the idiosyncratic creativity of David Cronenberg's The Brood. It's a great cinema grab bag that feels like chatting with your friends while strolling through an endless video store.
2. Complete Criterion Editions
For the crazy people who still buy physical media, a Criterion release is like the gold standard. It's a cherished collector's item that attempts to tell the complete story of a single film in one worthy package, and now you probably won't have to worry about buying a select few of them.
Though a healthy majority of the films under the Criterion banner are available to stream via FilmStruck, they might not necessarily have all of the vital special features — like documentaries, featurettes, visual essays, and more — available in the physical package. But a select few actually have been released in their full editions, including old school Criterion classics like Grey Gardens, to brand new releases like the Coen brothers's debut film Blood Simple or David Lynch's Mulholland Drive. There's definitely financial value in scoping out the complete Criterion editions of these films, but there's also intellectual cinematic value in experiencing the best of the best the way the best wanted the films presented.
1. Kurosawa
FilmStruck literally has a label called "The Masters" that features the work of stone cold film geniuses like Charlie Chaplin, but as far as the masters of cinema go, Akira Kurosawa is it.
All but three of the famed Japanese filmmaker's films are available to watch, and it really is a journey through the human experience like no other auteur can muster. From huge epics like Seven Samurai, to tender dramas like Ikiru, to philosophical meditations like Rashomon, there's a reason why so much ink has been spilled and so much time has been taken up watching Kurosawa's films. FilmStruck's nearly complete presentation is here to remind you why.