What You Need to Know About 'Overwatch' Season 3
It's gonna be a good one.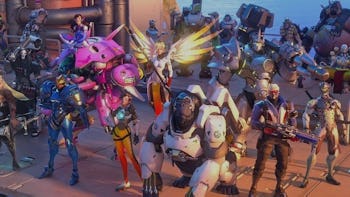 Lazygamer
Believe it or not, Overwatch Season 2 is almost over. The current season wraps up November 24, just in time for Thanksgiving, but avid fans won't have to wait long for the next round of competitive play to gear back up. Season 3 begins on December 1, and it's also bringing some changes. Here's what you can expect.
Skill Rating
Blizzard aims to re-balance early season matchmaking. Previously, all players' skill ratings were reset, meaning players of all skill levels were matched together. This wasn't very fair to people of all types of experience. To solve this, Blizzard won't be resetting players' skill rating entirely. Instead, your skill rating from the previous season will partially determine your skill rating for Season 3. Note that the emphasis is on the partially here, which brings us to our next point.
Skill Tiers
To counter these changes to skill rating, though, other alterations need to be made to players' skill tiers at the start of the season. In Season 2, giving players a fresh start meant that beginners were often ranked in the same tiers as much more advanced players. Less advanced players weren't able to keep up in these tiers, resulting in their skill ratings sinking. To make things more fair this time around, players will start off with a slightly lower skill rating than what they ended Season 2 with. This will hopefully rank players in the appropriate tiers, and prevent ratings from dropping unfairly.
Top Players to Watch Out For
Even if you're not interested in going pro, you might want to dive into watching competitive Overwatch, and as the game continues to establish itself as a serious presence in the esports arena, it's well worth getting to know some of the big names in Overwatch*. Here are a few players to watch out for in Season 3.
Seagull
Brandon "Seagull" Larned currently leads NRG's Overwatch team and specializes in Genji. He has yet to take a championship, but has all the potential to lead the U.S.A. to victory in the future. He's a regular presence on both YouTube and Twitch, offering thoughtful commentary and explaining moves, which is a great help to new players.
uNKOE
Benjamin "uNKOE" Chevasson represents France and his team, Rogue. He focuses mainly on Zenyatta, so if you're looking to learn more about him, he's the man to watch. With his help, Rogue took first place at the APAC Premier Tournament and the ESL Overwatch Atlantic Showdown at Gamescom 2016.
Zebbosai
Sebastian "Zebbosai" Olson hails from Sweden and represents Misfits as a support player. Zebbosai and his teammates were favorites for the Overwatch World Cup this year, but came in third beneath South Korea and Russia. That's still not a bad showing, and we'll be looking forward to seeing more of Zebbosai at future events.
Miro
Gong "Miro" Jin-Hyuk plays for South Korea on team Lunatic-Hai. He claimed the MVP title at the Overwatch World Cup and helped lead South Korea to first place at the same tournament playing as Winston. He's considered the leading tank player in the world and is set up to make South Korea a leader in competitive Overwatch. Not too shabby!
KnoxXx
Jean-Louis "KnoxXx" Boyer has made big strides for France so far in the competitive scene with victories at the ESL Overwatch Atlantic Showdown and the APAC premier. He focuses on support, and looks to be a promising addition to team Rogue.
There are exciting times ahead for Overwatch as Blizzard continues to work out the bigs and starts to look forward to more competitive tournaments and events. Season 3 could be big for Overwatch as an esport, so keep your eyes peeled!