Ford CEO Mark Fields: We're on the "Cusp of a Mobility Revolution" 
"We're attending the first major auto show in the world that's not about cars."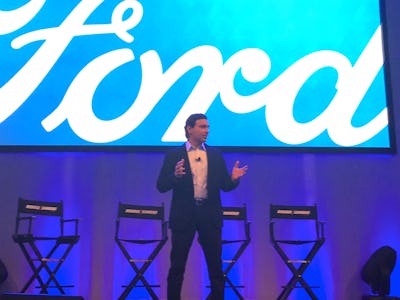 Ford CEO Mark Fields offered his vision for the future of the car company Tuesday, which involves transportation services — ride-sharing, autonomous technology, and even bicycles — that he hopes expands the automaker's revenue greatly in the coming years while presumably offering everybody more ways to get around their city.
"We're attending the first major auto show in the world that's not about cars," Fields said, before adding that "we really are on the cusp of the mobility revolution."
Standing in front of a projection of the 2017 Ford GT supercar, Fields said cars "are still very, very important," but continued to acknowledge the company's forays into other methods of transportation. "While we continue to make great vehicles they are no longer our entire game., he said. (On Monday, Ford debuted the EcoSport, its compact SUV for millennials).
"While we focus on making the car of tomorrow, we also focus on the city of tomorrow," Fields told the assembled auto industry players and media during a Tuesday morning keynote at the Los Angeles Auto Show's tech-focused media days, branded as Automobility LA.
"There's a lot of talk these days about artificial intelligence and at Ford our intelligence isn't artificial, it's human," Fields said, attempting to calm any fears of creeping automation in factories.
"What would a city look like if more people were using shared services instead of personally owned vehicles?"
Fields said the addition of transportation services could double current revenue from global car sales. He announced on Tuesday that Ford would partner with the Compact of Mayors, a group of city leaders headed by former New York City Mayor Michael Bloomberg.
"We have created Ford's City Solutions team," Fields said. The partnership is in the works in San Francisco, and other cities will follow soon.
One part of Ford's transportation solution is the San Francisco start-up Chariot, now part of the Ford mobility team. The app-based crowd-sourced shuttle service specializes in the "first mile, last mile" needs of commuters. It's expanded to Austin, Texas, and will be in more cities soon.
"We'll see substantial revenue opportunities to providing mobility solutions to millions of commuters," Fields said, noting that there is a "growing workforce in several cities globally, many of whom do not own vehicles today or do business with Ford."
Fields's keynote opened the first full day of Automobility LA before the actual LA Auto Show kicks off on Friday. There's an increased focus on battery-powered cars, autonomy, 3D printing, and big data during the run-up to the auto show, which has traditionally ranked behind bigger shows in past decades. But LA's influence on the design industry and the number of design studios here has raised the show's stature.
In August, Fields said that Ford will be "mass-producing vehicles with full autonomy within five years," specifically with an eye on ride-sharing services.