Ford Debuts Its EcoSport SUV on Snapchat with DJ Khaled
The tiny SUV makes a splashy entrance.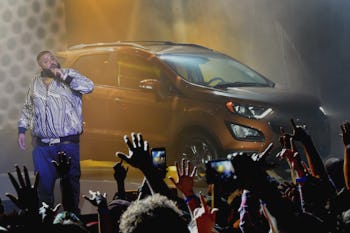 Sam VarnHagen
DJ Khaled, reigning king of Snapchat, was perhaps the best person on the planet for automaker Ford to use to debut its EcoSport on Monday in Los Angeles. With Ryan Seacrest, of course.
"Ryan, you gotta bear with me, I gotta type out my caption, so important," the prolific DJ and pure ray of sunshine told Seacrest, focused on his phone in front of an audience of a few thousand who waited, patiently. When he finished, he launched into "All I Do Is Win," his 2010 global hit. People used Snapchat to record the moment.
The Snapchat debut of the EcoSport (pronounced "echo," short for ecosystem, or ecology), was, according to Ford, the first-ever reveal of a car on the platform. To remind people, Khaled — later joined by Fat Joe and Remy Ma — shouted out "EcoSport!" more than a dozen times from a stage set up off the intersection of Hollywood & Highland, while flanked by two of the cars on stage.
"If you got the keys like I got the keys to this EcoSport, put your hands up!"
The Ford EcoSport — a popular compact SUV launched in 2003 but primarily sold in Europe — is now being marketed to millennials who would rather spend their money on Coachella or Comic-Con, and want the car to help them do that.
"It's knowing that in your life, you're going to make trade-offs," Cristina Aquino, a Ford marketing manger told Inverse about Ford's intended customer, after Khaled's set ended. "You're going to make a decision to focus on spending on a vehicle that will help you have the capability to experience the life you want."
That means a smaller, less expensive, and likely more fuel-efficient car. If that sounds great, the bad news is that the EcoSport doesn't go on sale for more than a year, in early 2018.
"It's not unusual, but for us, it's also strategically a great idea to spend some time building a relationship with the customers," Aquino told Inverse when asked about the long run-up.
Ford executives said Monday that the car will continue to be manufactured in India, as it has been since 2013, and imported to the United States. It will be available in four models: the S, SE, SES, and Titanium.
Ford has not announced a price range, but it's expected to be slightly below that of the Ford Escape, which starts at $23,000. Ford's got competition. The small SUV class is quickly becoming very competitive and crowded. For instance, also at the LA Auto Show, Toyota will debut the CH-R, another subcompact SUV.
The EcoSport features a slew of futuristic features, including an eight-inch digital tablet that sort of floats on the center dash, and there's a B&O Play sound system trumpeted by Ford, that includes ten speakers for the Titanium. There are two USB ports. There are some 30 "storage solutions," many in the form of little bins to keep your stuff, Karen Sullivan, another Ford marketing manager, told Inverse. The car has a roomy interior, and at first glance, the exterior gives off the vibe of a hollowed-out, candy-colored jelly bean. (It will come in ten colors.)
So, Ford clearly has high hopes for this new car. The event on Monday was the first night of a three-day music and lifestyle festival called "Go Small, Live Big." It's all built around marketing the EcoSport and its attached lifestyle. A parking lot behind the El Capitan Theatre was filled with beach umbrellas, stalls selling fried donuts and acai bowls, two model tiny homes, and zoo housed in a geodesic dome (featuring a meme-ready porcupine, rabbit, chinchilla, and owl). There was a screen printing station and sand was trucked-in for a beach scene.
So yeah, the affair was expectedly splashy. And if anybody during the free concert forgot why it was happening, Khaled was there to remind them.
"I think he said EcoSport about a million times, we should know how to pronounce it by now," Sullivan said.