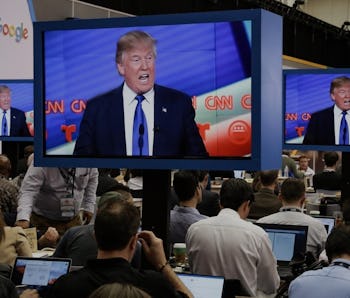 Entertainment
How Will TV Adjust to Trump's America?
The medium has been fighting the power and a national pacifier for as long as it's existed.
The Atlantic
Donald Trump, a reality TV star with years of sitcom cameo credits, used the power of television to seize the American consciousness and win the presidency. Now, TV has to figure out how to adjust to a new reality and national mood.
As left-leaning as the entertainment industry's messages tend to be, the real money lies in catering to the whole country, and with so many cable and streaming outlets, the easy guess is that there will be a shift to match the changing mood of the country. Following September 11, TV was filled with white heroes taking down terrorists — see Jack Bauer on 24 — and it remains true that the most successful television shows often reflect American attitudes at any given time. But at the same time, The Daily Show began its rise to prominence in those years, suggesting that there is a strong hunger for a fierce counterpoint.
"Shows are going to make specific political points, and it's going to become increasingly partisan, and it'll alienate audiences on both sides," said one development executive who has worked with satirical heavyweight Sacha Baron Cohen.
The evolution of TV has always mirrored American society: It was straight-laced and buttoned up at first; satirized and rebelled against the status quo through the 60s and 70s, got weird in the '80s and later took a leap into the direct, scathing satire present in Veep and Last Week Tonight. Often, the most popular shows are indicative of the political climate they're aired in, and the past ten years have marked a massive shift both in how we watch television, and the sorts of topics that television addresses. During the Obama administration, television became far more diverse, both on-screen and off, with groundbreaking series focused on race, sexuality, and gender.
A Trump presidency promises to roll back a lot of the socially progressive changes made over the last eight years, with the president-elect and his chosen cabinet officials endorsing regressive political stances toward women, the LGBT community and minorities. The question is whether television play into these damaging views in order to cater to Trump supporters, or continue to push the envelope, even if it doesn't match the government's official policies.
The platform will also help determine the tone of the content. In the past eight years, the increasing prominence of web content as a supplement or even a replacement for traditional television - platforms like Netflix, Hulu and Amazon are the obvious major changes, but networks like Comedy Central are developing micro-content to gradually feed into their main programming, as well.
"Web has a big role with us, and probably with entertainment in general moving forward," said a development representative for Comedy Central. "It's a place to cultivate new voices, experiment a little and figure out what's going to serve our main audience the best."
Meanwhile, writers are just as determined to continue to represent cultures onscreen that have largely been ignored by television for the majority of its existence.
"I see people using the stories on TV to empathize with communities they're not usually exposed to," said Teresa Lee, TK TK. "At the very least, it will be very cathartic for the people creating TV to speak out through their stories."
During the last few years, Fresh Off the Boat, Black-ish and Jane the Virgin lent a voice to underrepresented communities, carving a space amongst the white male protagonist sitcoms like The Bang Bang Theory and Two and a Half Men that have for so long been TV's standard. The representation of women on American TV has come a long way, as well, particularly in the political sphere. With HBO's Veep, Julia Louis-Dreyfus has cleaned up at the Emmys year after year for portraying a woman in high political office, and Parks and Recreation, focuses on a determined, politically ambitious female candidate. As was the trend with many Obama-era political comedies, more women and minorities were represented than the days of The West Wing, because the political landscape appeared, at least on the surface, more open to progress.
As liberal as the TV landscape tends to skew, the American public still has a ways to go before it's caught up - as of last year, The Big Bang Theory, Modern Family and The Goldbergs were the top-rated comedies according to Nielsen, all shows that feature prominently white families (although Modern Family* shows LGBT and minority characters in prominent roles). Moving forward, in a national climate where the voices of women, minorities and LGBT Americans are likely to be suppressed, it's on television to renew their commitment to these voices so as not to sacrifice the progress that's been made in the past eight years. And, at least when it comes to comedy, it shouldnt be all that difficult.
"I can't speak to what Republican comedy is out there, because I have no idea what that looks like," the development executive laughed.
And in an era in which the political system has become a bizarro version of itself, TV also has a chance might go meta entirely - Harry Shearer, who rose to fame on The Simpsons and SNL, has already announced the series Too Soon?, a satirical show aimed at chronicling the Trump presidency in all its glory for the duration of his first term.
"I wanted to do this to start what I think is a future, if not the future, of topical sketch comedy," Shearer told Variety. "With Donald Trump now set to be President, this could be comedy gold for the next four years."
In the meantime, most comedy writers are remaining committed to their craft and to representing all walks of American life on television.
"I don't think that comedians are responding to recent events in a way that is any different than how they've been acting during peaceful times," Lee said. "It's just that when the political climate gets uncertain, more people start listening."