Researchers Found a Tiny Seahorse in NYC's Polluted East River
Things might be getting slightly cleaner!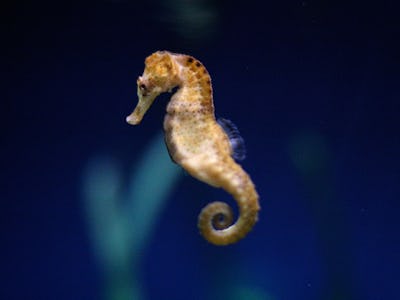 Flickr / oscar alexander
As part of an effort to clean up New York's rivers and promote STEM education, a group of nine students discovered an unexpected surprise while studying New York's East River: a tiny, lined seahorse.
The students — hailing from the Dr. Susan S. McKinney Secondary School of the Arts in Fort Greene — stumbled upon the 6-inch seahorse in an oyster restoration station under the Manhattan Bridge at Brooklyn Bridge Park earlier this week.
Led by their teacher, Rachelle Travis, the middle school students were collecting data for the Billion Oyster Project (BOP) — a project backed by the New York Harbor Foundation — when they discovered the tiny creature. BOP hopes oyster reefs will help to restore and clean the city's polluted harbor.
The students were tasked with testing the water quality, and measuring the oysters when they found the little guy in one of several mesh oyster cages, spread around the harbor. Oysters and other tiny organisms help clean up the water by filtering out pollutants, such as excess nitrogen. While it's not a unique sighting, it is a glimmer of hope that the project's efforts are paying off.
"Twenty years ago, it would have been very uncommon," said Susannah Black, a spokeswoman for the New York Harbor foundation. "These days it's not uncommon."
Oyster reefs once blanketed 220,000 acres of the Hudson River estuary, but over-harvesting and pollution nearly wiped them out. Thanks to the efforts of the Billion Oyster Project, more than 19 million oysters have grown, restoring at least an acre of the harbor's reefs in just six years.
Since these oysters have helped to purify the water, they're not safe to eat. In addition to keeping the waters clean, they help increase diversity within the harbor as creatures like seahorses and certain types of crabs thrive in the structured environments (versus open waters) that the oyster reefs provide.
So far 54 schools have participated in the project, with students learning a plethora of skills including how to SCUBA dive safely, raise oyster larvae, build and operate commercial-scaled oyster nurseries, and how to design underwater monitoring equipment that will enable the researchers to monitor progress in the murky waters of New York's contaminated rivers.