The 'Living Breakwaters' Enlists Oysters to Help Protect a City
The $60 million project would use the mollusks to both serve as a barrier and sweep polluted waters clean.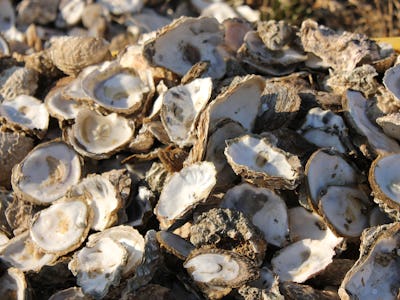 Paul Wilkinson | Flickr Creative Commons
A borough of New York City is looking toward oysters to help save it from future disasters.
Following the heavy flooding caused by Hurricane Sandy in October of 2012, the threat of storm damage has been an issue of critical concern in Staten Island. The U.S. Army Corps of Engineers has since been studying its coastline, focusing on a 13-mile stretch between the communities of Tottenville and Fort Wadsworth—an area that has been hard-hit by major weather events—particularly Sandy and a December 1992 nor'easter that damaged hundreds of homes. The vulnerability to violent weather remains ever-present—and the Corps Engineers did reveal back in August 2015 that a seawall is in the works, with an estimated date of completion in 2021, as reported by cable news channel NY1.
However, another option to protect Staten Island is being adopted, and it's counting on a certain bivalve to especially contribute.
The project is called Living Breakwaters —intended as both a safeguard against storm waters and an ecological enhancement. The plan is to build a 13,000 foot-long reef, consisting of a series of breakwater barriers constructed from concrete and recycled glass—underwater structures that help diffuse wave energy and temper beach erosion—in Raritan Bay and Lower New York Bay, along the coast of Staten Island. However, the buffers would also serve as a habitat to support sea life—especially oysters, which would be introduced…or, in truth, re-introduced.
Before the 20th-century, the waters of Staten Island were famous for exceptional oyster production—but by the early 1900s, outbreaks of typhoid fever were traced to harvests taken from area waters (as noted by silive.com). The last oyster beds were closed by the 1920s.
With the Breakwaters plan, the project's barriers would be seeded with oyster "spats" (spawn), with a goal of bed growth in turn expanding the size of the underwater structures, further enhancing the ability to reduce wave energy. In addition, the oysters, being filter feeders, could help to sift out toxins and pollution from the water. All of this activity could further make the zone a desirable habitat in which for crustaceans and fish to live.
The federal government approved a $60 million grant for the project back in April 2015. Construction is expected to begin in 2017.