'Surgeon X' Comic Book Imagines a World Without Antibiotics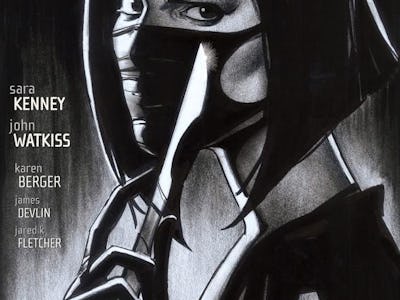 National Geographic
In a world without antibiotics, a virus once thought cured, such as pneumonia, can kill you. Today, resistance to antibiotics is thought to kill up to 700,000 people a year. So, British filmmaker Sara Kenney — taking in this gruesome reality — turned the topic apocalyptic for her comic Surgeon X.
Set in London in 2036, Image Comics's Surgeon X follows the tale of Rosa Scott, a young doctor who's frustrated with the political system in Great Britain that refuses to give its citizens what they need. While dodging the attentions of her father, a surgeon, and her microbiologist sister, Rosa recruits her brother who has schizophrenia — to set up a secret clinic and treat people who the system have forgotten. Think of her as a much darker, medical Robin Hood.
"She's an amazing surgeon," Kenney told National Geographic, "but she changes because she decides to pass judgment on people, in terms of whether they're worthy of living or dying, which is something a doctor would never do. In my original concept I wanted to explore the future of surgical medicine, because here in the U.K., we have incredible advancements, amazing technologies, but also a health-care system that can't afford them."
The second issue of Surgeon X was just released on October 26, and we already see Rosa going down a dark path, perhaps as an echo of her own government.
And that's the most horrifying thing of all: people getting sick and dying is one thing, but people getting sick and dying because their government is blind to their struggles? It is, unfortunately, a reality all too familiar to many parts of the world. But seeing this story unfold in London of all places seems to make it far more harsh than ever before.