Spider-Gwen Finally Joins Spider-Man's Most Disturbing Comic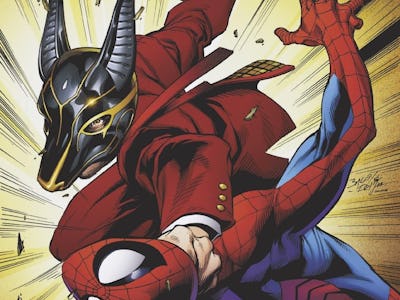 Marvel Comics, Mark Bagley
The new "Clone Conspiracy" storyline in The Amazing Spider-Man continues to be a creepy, exciting new mini-event for the web-slinger. Part horror, part sci-fi, "Clone Conspiracy" is hitting all the right notes as one of the best genre stories for Spider-Man. And now it just gets even better when Spider-Man reunites with Spider-Gwen in his own universe.
Spider-Man and Spider-Gwen inhabit two separate dimensions within the Marvel Universe, which is why the two have rarely encountered each other since the events of Spider-Verse. However, with the Jackal creating resurrected clones of all of Peter Parker's former enemies and deceased loved ones, the Clone Conspiracy is quickly becoming a threat far larger than Spider-Man alone. Doctor Octopus, Captain Stacey, Mysterio, and more have come back thanks to the Jackal, but the biggest twist was how the Jackal preformed a cloning resurrection of Gwen Stacy, who was famously killed in the main Marvel continuity.
Think that's the a twist? Well it gets twisted again when it's revealed that this Gwen Stacy isn't the cloned Gwen Stacy, but rather the Gwen Stacy who never died in the first place and instead became Spider-Woman, aka Spider-Gwen.
Confused? The "Clone Conspiracy" succeeds because despite treading old ground with another Spider-Man clone story, "Clone Conspiracy" leans in heavily on the influences of paranoid psycho-thrillers, spy films, and body horror. The story is so nimble at introducing twists that aren't only exciting, but genuinely surprising makes "Clone Conspiracy" a contender for one of the best Spider-Man stories.
The "Clone Conspiracy" is proving to be a much bigger story than it was initially teased to be. The story has already revived several of Spider-Man's most famous dead enemies, his former girlfriend, and has become so serious that Gwen Stacy, Spider-Woman, is intervening in the main Marvel continuity. The story has gone in so many surprising directions, it's honestly very difficult to predict how the event will end. Until then, I hope the "Clone Conspiracy" continues keeping readers on their toes.
The Amazing Spider-Man: Clone Conspiracy hits comic book shelves and digital retailers on December 7, 2016