Read Comics: 'Spider-Gwen', 'Starfire', 'Limbo', and 'Ms. Marvel' Are Great
'Spider-Gwen', 'Starfire', 'Limbo', 'Ms. Marvel', and 'Descender' killed it this week with new issues.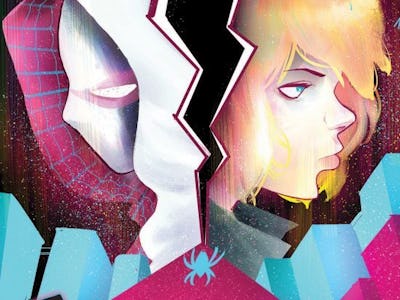 Another week has passed, and I'm still filling up my tiny apartment with colorful comic books. This week, I was lucky to score issues from Image, Marvel, and DC; and all the creators I follow really knocked it out of the park. I wasn't psyched when I emptied my box at Comicazi (any week without Archie or Saga is kind of a bummer), but every thing I did get surprised me.
Image's Limbo looked especially beautiful, Descender continued to tug at my heart, and DC and Marvel's B-team superheroes, including Starfire and Spider-Gwen, made some interesting choices. We've got horror, comedy and drama going on, so let's get down to it.
Months ago, Limbo caught my eye because it was the only candy-colored comic with a mature rating I had ever seen. As I'm a fan of both bright, whirling aesthetics and characters ripping their own faces off, I've enjoyed living in Limbo's ghostly world as the narrative progresses. This week furthered the comic's internal mythology, explaining a bit about what drives its literal ghost-in-the-machine conceit.
The most memorable part of Limbo is its multicultural art style, masterminded by Caspar Wijngaard. It's a cyber-kinetic ghost story in which the dead look like mourners on Dia de los Muertos. While Limbo doesn't have the robust cast of characters that Saga has, (I compare the two because they're both distributed by Image) it does feature striking visuals in every issue. This one ends with a jolt.
Fans of pretty, dark television shows like Sense8 or Pushing Daisies will appreciate Limbo.
Starfire #10
When I picked up this issue at the store, one of the guys at the counter told me he was curious about Starfire because he had loved the original Teen Titans cartoon. I was about to agree with him, and then he said he loved Teen Titans Go! even more, and I didn't have the heart to tell him I find it insufferable.
Anyway, I'm constantly wondering who exactly Starfire is intended attract. Her origin is understandable; she's a well-intentioned alien who doesn't understand how sexy she is. The plot in these new issues relies less heavily on innuendo, though, so DC posits her as a Veronica Mars-esque, intergalactic detective who just happens to not notice when she's naked.
On the sexy side of things, this issue introduced an alien creature who can make humans desire each other, and the effect was played for lighthearted comedy. I want to say fans of comedies that employ femininity in interesting ways, like Jane the Virgin, will enjoy Starfire, but I think an appreciation for camp is useful, too. Any Inverse readers who are excited as I am about the return of Ru Paul's Drag Race will understand.
Descender gets better all the time. I'd say it's the comic I'm most excited to read these days, because of its gentle and sentimental take on hard sci-fi. I've always liked my cyborg stories with a healthy dose of sadness, so Descender's robot dogs and robot boys are my one way ticket to tear town.
Jeff Lemire's dialogue crackled, as always, this week, and Dustin Nguyen's watercolor renderings absolutely shine. Descender is one of those rare comic books that would feel horribly different — almost definitely worse — without either artist on the team. It's more than the sum of its parts — its sparse, empathetic dialogue and its lovely portraits — but its parts are pretty great on their own, too.
If you like your sci-fi sad, and you enjoyed shows like The X-Files, Battlestar Galactica or Fringe, I urge you to try this comic.
At this point, Ms. Marvel would have to do something utterly ridiculous to make me lose interest. It's just so good at hitting its marks over and over, playing with Kamala's relationship to her family and to her best friend, and teasing us occasionally with her growing public role as a superhero. It's a teenager's story, first and foremost, so issues like this (rooted in Kamala's Jersey City, as if nothing huge is happening in the world) feel organic. There's a mention of Hydra that comes and goes.
I'd recommend Ms. Marvel to anyone watching Supergirl, obviously, but it's really more of a iZombie, The Mindy Project, or New Girl kind of vibe.
Radioactive Spider-Gwen #6
To be completely transparent, I began reading Spider-Gwen simply because of the concept. Peter Parker is dead in this comic' universe, and Gwen Stacy takes on the Spidey role alongside a black, female Captain America. The gender-swap gimmick was enough to keep me on board through some slow issues. Spider-Gwen is one of the few comics I read which relies heavily on other comic books published by its distributor, Marvel. I'm not really a fan of those marketing blurbs that pop up here, or in Unbeatable Squirrel Girl, telling me to check out another issue of another comic just to fully understand a joke or reference.
Anyway, this week was a fantastic one for Spider-Gwen, and the stakes were so high in her fight with this universe's Green Goblin that I actually said "oh shit!" on the subway while reading the issue. This is the kind of comic book run that deserves a television adaptation.
Fans of, again, iZombie will dig Spider-Gwen, but those who really like their female heroes serious and are less inclined to crack jokes while under pressure will really, really get it. I'd recommend Spidey to anyone who loved Jessica Jones, or anyone who still watches Scandal.