'Valerian' Is Likely Set Entirely in Space, Contains Parallel Worlds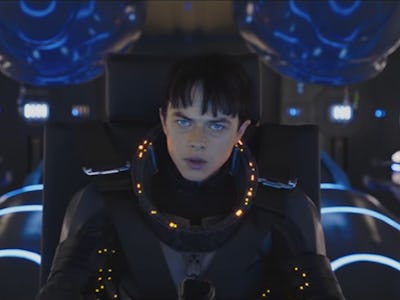 EuropaCorpUS
Valerian and Laureline will adventure through space as they weave their way through the intergalactic city of Atlas and dodge its 17 million inhabitants. And their adventures in next summer's Valerian and the City of a Thousand Planets will most likely be set entirely in space.
Besson is best known for his direction on science fiction works such as the cult classic The Fifth Element and the much less classic Lucy. The trope-filled extravaganza that we expect Valerian to be already seems to be verging in the direction of the former but with an aggressively large budget of $180 million and the so-very-millennial Dane DeHaan and Cara Delevingne.
During a free-for-all Twitter chat under #AskLucBesson, the director answered some fan questions about the characters, the French graphic novel that acts as the film's source material, and the special effects behind it all.
Besson confirmed that less than 100 shots in the entirety of the film don't use VFX, while an astounding 2,734 of them do.
He also confirmed the use of parallel worlds just to add to our ongoing list of wonderful sci-fi tropes.
Atlas is an ever-expanding city made up of beings from all four corners of the universe — and director Luc Besson clearly knows that space travel is the only way to effectively encompass the enormity of this concept. So there's more space travel than anything going on here. The source material for the film, the French graphic novel Valérian and Laureline, focuses not only on space travel but also on time travel, which Besson seems to have decided would be too complicated an introduction.
Be on the lookout for Valerian and the City of a Thousand Planets in June 2017.