The 'Valerian' XB982 Inspired the Iconic Millennium Falcon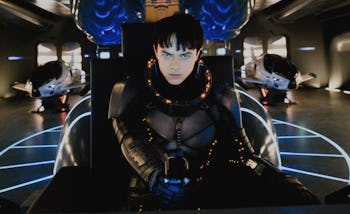 www.instagram.com/lucbesson
Valerian and Laureline have just landed — both at New York Comic Con and in the first poster for director Luc Besson's adaptation of the beloved French comic series, and they've brought the XB982 with them.
The brand new poster gives us our first look at the main spaceship that will be piloted by the time-traveling space spy Valerian (Dane DeHaan) and his partner Laureline (Cara Delevigne) in Besson's Valerian and the City of a Thousand Planets, and if it looks familiar that's on purpose.
The original comic by artist Jean-Claude Mézières predated Star Wars by about a decade, but when George Lucas's space opera rolled around in 1977 with the hamburger-shaped Millennium Falcon flying across the screen it bore a striking resemblance to the XB982.
It's got a battle-hardened grey-ish color design, those main thrusters, the distinct ramp that opens from below the craft, and it even has what looks to be the Falcon's escape pods. It's all eerily similar, but backwards. Besson's XB982 only looks like the Falcon because the Falcon was supposed to look like the XB982 from the comics.
Take a look at the poster below:
The film is adapted from the two-volume storyline of the same name, which means the scene in the poster with the XB982 might be on a barren planet-sized asteroid called Slomp. It's here where Valerian and Laureline explore a mysterious liquid substance that has the ability to extend a human's lifespan. But the movie's official synopsis hints that Besson might bring in storylines from other comics for his big-screen version of the character.
Read the synopsis below:
Valerian (Dane DeHaan) and Laureline (Cara Delevingne) are special operatives for the government of the human territories charged with maintaining order throughout the universe. Valerian has more in mind than a professional relationship with his partner, blatantly chasing after her with propositions of romance. But his extensive history with women, and her traditional values, drive Laureline to continuously rebuff him.
Under directive from their Commander (Clive Owen), Valerian and Laureline embark on a mission to the breathtaking intergalactic city of Alpha, an ever-expanding metropolis comprised of thousands of different species from all four corners of the universe. Alpha's seventeen million inhabitants have converged over time — uniting their talents, technology and resources for the betterment of all. Unfortunately, not everyone on Alpha shares in these same objectives; in fact, unseen forces are at work, placing our race in great danger.
The planet in the poster image hardly looks like it could be the intergalactic city of Alpha, so here's hoping Besson unveils some new details when they present Valerian and the City of a Thousand Planets at New York Comic Con.
The film is scheduled to hit theaters July 21, 2017.