Valiant's Cat Cosplay is the Cutest Thing on the Internet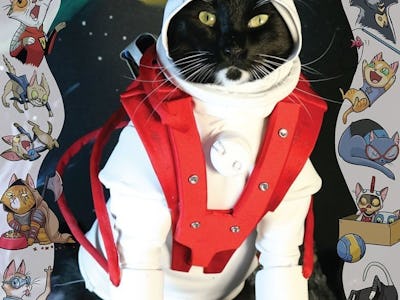 Valiant Comics, Cat Cosplay
Valiant Comics has decided to inject a little levity into its line-up of violent superheroes. The publisher has partnered with Cat Cosplay, the cosplay blog where "trained cat models" wear "professional cat costumes" for the enjoyment of the entire world. Basically, the best account currently on Twitter is about to become the best Twitter account featured on comic book covers.
In 2015, Marvel released a similar line of variant covers featuring human cosplayers dressed as the respective Marvel superheroes for the different series covers. Valiant's decision to use cat cosplayers feels like the logical next step in the cosplay variant cover wars. And as the first salvo, Cat Cosplay revealed the first three variant covers on their Twitter account. These cosplaying cats include felines dressed for Valiant comics like Bloodshot, Divinity III, and Archer and Armstrong. Each cover also features a border full of illustrated cats in different Valiant comic book costumes like Ninjak and Rai.
Cosplay Cats deserve all the kudos for finding the perfect cats to cosplay as different Valiant heroes. Bloodshot cat looks both grumpy and fluffy, making the perfect version of this supersoldier turned superhero.
And look at this little cosmonaut for Valiant's Divinity series in which the Soviet Union use every bit of engineering they have to beat the U.S. in the space race. This little trooper is ready to take down the capitalist pigs for the glory of his country.
And, of course, you need two different cats to cosplay as both Archer and Armstrong as the buddy team action heroes of Valiant comics. One of them even has a little cat gun, for his cat murders.
These are just three covers of Valiant's Cat Cosplay variant covers that will hit comic book shelves December 2016. Look for others including cats cosplaying as Ninjak and Faith.