Nissan Just Revealed a Car Share Scheme That Scans Social Media
Would you do it for a cheaper car?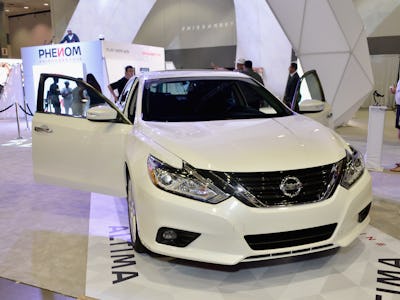 Getty Images / Araya Diaz
Nissan is planning a car sharing scheme that will use social media data to pair up users based on driving habits. The scheme, dubbed Get & Go, will scan for updates and location data through a user's smartphone. That data will be used to share a car at times when others are less likely to need it, like when they are at work. Users will "group" together to buy a car, sharing the upfront cost equally before paying an individual monthly cost depending on usage.
The scheme is expected to be announced at Lisbon's Web Summit on Tuesday, but the Financial Times received a preview prior to executive Carlos Ghosn's announcement. After an initial trial in Paris next April, the scheme is expected to see a wider rollout after the summer, assuming the initial test is successful.
Car sharing is an area currently under exploration by many companies, aiming to reduce the upfront cost of a vehicle by putting it to use during downtime. In Tesla's latest master plan, CEO Elon Musk said that he's aiming for a future where the cars drive themselves around, ferrying passengers in an Uber-like system. That's a bit different from Nissan's system, as Tesla could theoretically reduce total cost of ownership to zero, possibly turning a profit.
Tesla's scheme also depends on autonomous car technology:
Nissan is using the Micra for the initial tests, and it seems the scheme is more aimed at leveraging existing technologies to change car ownership structures, rather than thinking about how new technology may change this.
"We are moving toward a future where car usage may be more flexible, social and shared," Ghosn said. "We're pioneering new ways to allow drivers to enjoy the freedom and financial benefits of shared car ownership."
Sign up for interested applicants will open in December, at which time Nissan will pair users up with locals that may be a good match.