New 'Logan' Photo Hints Wolverine Did Something Truly Awful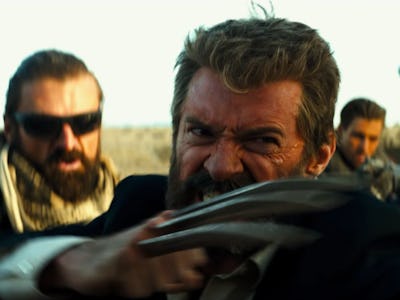 YouTube.com/20th Century Fox
Wolverine isn't having a good time in Logan. The final movie to star Hugh Jackman as the savage mutant takes place in a dystopian future where mutants are going extinct and the X-Men family is shattered. Still, Wolverine, Professor X (Patrick Stewart), and Laura (Dafne Keen) share a light moment in the trailer, but a new photo suggests that danger comes knocking soon after.
On the official Logan Instagram account, the latest photo depicts Wolverine over (what look like) a dead body in front of a suburban home. The setting stands out from the desert wasteland Logan publicity has shown ad nauseam, and the only connection to suburbia in the trailer is when our heroes are seen laughing over a dinner table. It's a calm moment amidst so much pain and anguish.
The photo, captioned "silence," seems to capture a pause in Logan's plot. Because many of the photos released from the film have looked ominous, Logan's marketing has stressed both gory action sequences and meditative moments. This last image might be a perfect combination of both tones.
Logan, from director James Mangold, takes place after 2014's X-Men: Days of Future Past where Wolverine travels back in time to the '70s to prevent Mystique's assassination of Trask. Her capture by authorities helps create the Sentinels, ushering in a bleak present for mutants. This year's X-Men: Apocalypse, took place entirely in the '80s and had Jackman appear in a cameo as Weapon X, creating a somewhat alternate timeline from the one in X-Men Origins: Wolverine.
Logan will be released March 3, 2017.