Wolverine Is Old and Furious in Incredible 'Logan' Trailer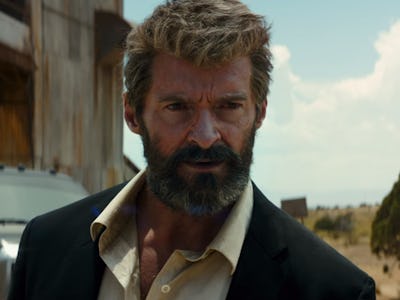 YouTube.com/20th Century Fox
Mutants are hurt. In the first trailer for James Mangold's Logan, the final Wolverine film starring Hugh Jackman, the ex-superhero meets a girl "very much like" Logan and they hang with a very old Professor X (Patrick Stewart). With Donald Pierce and his cyborg soldiers, Reavers, hunting for her, Logan embarks on a violent journey across a desolate America in a loose adaptation of the 2008 graphic novel Old Man Logan.
Set to Johnny Cash's cover of Nine Inch Nails's "Hurt," the trailer for Logan is almost everything superhero movies aren't. Absent of explosive set-pieces or falling buildings, Logan looks more like a gritty, dirty, and exceptionally violent movie that owes more to neo-Westerns like No Country for Old Men than to Marvel.
Of note in the trailer is the status of mutants: They're extinct. The trailer reveals most have been wiped out ("Charles, the world is not the same as it was," says Logan. "Mutants, they're gone now"), which makes the survival of the young girl, Laura — who in the comics is the mutant X-23 and successor of the "Wolverine" mantle — totally crucial. So maybe there's some Lone Wolf & Cub and Children of Men in Logan too.
Check out the trailer below, and try not to cry a little. It is Jackman's last turn as Wolverine, after all.
Logan will be released March 3, 2017.