Woah, 'Logan''s Bearded, Grizzled Wolverine Has Seen Shit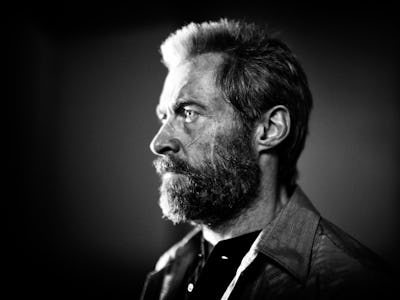 Twitter.com/mang0ld
Wolverine ain't one of them smiling superheroes, bub. In a first-look reveal in James Mangold's Logan coming in 2017, Hugh Jackman looks scarred, bearded, and withered like strong oak in Mangold's loose adaptation of Old Man Logan from Mark Millar.
Posted to Mangold's Twitter with camera specs meant to make film nerds drool, Mangold reveals a side profile of Jackman as an aged Logan, who has long put his days as Wolverine behind him. Logan is loosely based on Mark Millar's Old Man Logan, a post-apocalyptic road trip set in an alternate Marvel Universe where supervillains ultimately succeeded in taking over the world. Logan just wants to be left alone and carve out a meager existence, but his old buddy Hawkeye recruits him for one final job across a desolate and dangerous United States.
Mangold's Logan isn't following Millar's 2008 graphic novel to a T, but it is taking heavy inspiration. Also in Logan will be a young X-23, Donald Pierce, and his cyborg criminal gang called Reavers.
Logan is shaping up to be a radical departure from previous X-Men movies, including Mangold's 2013 spin-off The Wolverine. Its tone is harder, grittier, and less flashy than any Marvel superhero movie ever before. "In this flick, people will get hurt or killed when shit falls on them," writes Mangold in a paragraph in the film's script. "Should anyone in our story have the misfortune to fall off a roof or out a window, they won't bounce. They will die."
Check out Jackman as Old Man Logan in Mangold's tweet below:
Logan will be released March 3, 2017.