John Oliver: Herbalife and Amway are Pyramid Schemes
The 'Last Week Tonight' host lifted the lid on a widespread practice.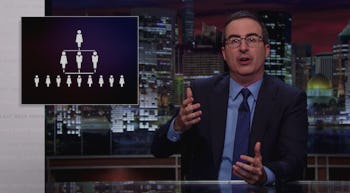 Last Week Tonight/YouTube
You may have heard of Herbalife, Mary Kay, Kyani, or Jusuru, but you may not be aware that these businesses operate in a very similar fashion to pyramid schemes. On a special episode of Last Week Tonight aired Sunday, host John Oliver exposed how people are sucked into hoarding large amounts of bad tasting soup in a bid to move up a fictional hierarchy.
"Good, hardworking people are going to keep getting caught up in these companies," Oliver said. To help spread the message, Oliver has started a new pyramid scheme, the hashtag #thisisapyramidscheme, to help spread the word.
These schemes get salespeople to buy up stock and sell it to people outside the scheme. Salespeople can also sign up new recruits, which will buy stock from them to build their own sales businesses. The returns are low: 93 percent of all Nu Skin distributors do not receive any money in an average month.
Proponents use creative descriptions to avoid admitting that their businesses are pyramid schemes. J. R. Rydinger, CEO of Market America, described his business as a "dimaryp" (pyramid spelled backwards) at a bizarre public conference where, among other spectacles, he ran inside a giant hamster wheel to symbolize a rat race and spoke at the grave of a fictional man that did not fulfill his potential.
A multi-year FTC investigation found that there were serious issues with Herbalife's business, but Edith Ramirez, FTC chairwoman, said, "They were not determined not to have been a pyramid."
"If the FDA announced 'we have not determined cotton candy not to be clown pubes,' you would not risk eating that shit again!" Oliver said.
Oliver's team have also produced a version of this week's episode for Spanish speakers, to reach out to the Latino community about the dangers of pyramid schemes. A large number of clients come from these communities, helped in part by product placements in telenovela productions:
Last Week Tonight airs Sundays on HBO.