How to Watch the Election If You Don't Have a TV
The end is nigh, so let's hope you have wifi.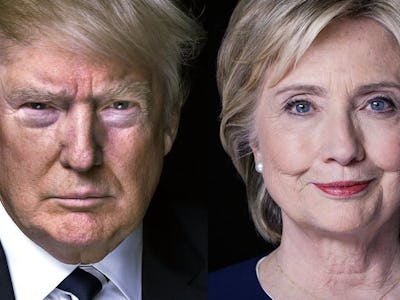 Fox News
After an overwhelming series of heavy-handed plot twists and painful, unrealistic dialogue, the 2016 season of U.S. Presidential Election is almost over. The finale goes down on Tuesday, November 8, and what a nail-biter it's turning out to be. If you're looking for drama, tears, talking heads, and Bill Clinton hugging balloons again to entertain you this week, then there are a few ways to go about watching the epic shitstorm.
If you have a TV: You're in luck. Just about every major and minor news channel and entertainment source out there is going to have its own form of election night coverage. It will be impossible to get away from it if you live in the U.S. and are staring at a backlit screen, so let's hope you're either willing to tune in or have a solid backlog of books at your disposal.
If you don't have a TV: Thank the internet gods for live streams. For those of us with a solid internet connection and a trusty laptop, the world — or the internet, which is basically the same thing — is our oyster. There are so many options to choose from, so below you'll find a list of the major TV networks, news sources, and other random outlets that you can tune in to online for this momentous occasion.
Let's hope the Powers That Be don't throw in any baffling cliffhangers or unexpected plot twists at the end. Happy streaming!
Major TV Networks
ABC — ABC and Facebook announced awhile back that they'd be officially teaming up for Election Night coverage. The outlet's official Facebook feed will provide us with live streams of its coverage from both anchors and correspondents throughout the country and include comments and questions from viewers in real time.
CBS — CBS News's 24-hour news streaming site, CBSN, will begin coverage led by correspondents Vladimir Duthiers and Reena Ninan — at 6 a.m. Eastern Time on Election Day. CBSN will also feature the network's "Campaign 2016: Election Night" coverage from 7 p.m. until 2 a.m. on Election Night (and additional live recaps).
CNN — The network's "Election Night in America" coverage will be live-streamed from 4 p.m. until 4 a.m. Eastern Time on CNN.com and on its Facebook page. Plus, CNN Digital will be giving us real-time results and exit polls for presidential and Congressional races across the country on the CNN Election Center page.
Fox — As far as we can tell, Fox isn't doing any live-streaming for Election Night. Instead, the outlet will be updating its online "Election Headquarters" all night, but to get any Fox anchors talking at you you'll probably have to be subscribed to a cable package.
NBC — As the major election night ratings champ, NBC's got a lot going for it. NBC's Youtube channel is going to be live-streaming its coverage of "Decision 2016" with NBC Nightly News host, Lester Holt, leading the charge.
Major News Sources
BuzzFeed — BuzzFeed is teaming up with Twitter on election night with a live stream and a live tweet deck featuring Twitter chatter around #ElectionNight. The tweet deck will provide you with all the polarizing thoughts you could possibly want from both sides, and BuzzFeed will be providing real-time analysis of other news organizations's predictions alongside its own coverage.
The New York Times — The NYTimes announced on November 3 that it was dropping its online paywall from November 7-9, allowing us access to all its election coverage without having to pay for it. The paper will also be using its Facebook page to live stream results and both national and international reactions to the election starting at 4:30 p.m. Eastern Time, November 8.
Washington Post — The Post will launch its Election Night programming on Facebook and on its website starting at 7 p.m. Eastern Time. Updates and commentary from reporters and columnists as well as analysis of real-time election returns will be hosted by political reporters Ed O'Keefe and Elise Viebeck.
Miscellaneous, Something a Little Different
Bloomberg — For something on the more business-y, straightforward side of things, check out Bloomberg's live Facebook coverage of Election Night starting at 7 p.m. Eastern Time.
MTV News — The channel that brings us Teen Wolf and Catfish is also going to give us some Election Night goodies starting at 7 p.m. Eastern Time on the MTV News Facebook page. In classic MTV fashion, puppies will serve as the channel's election night pollsters.
NowThis — The "No Sleep til POTUS" live stream on Facebook will begin at noon on Election Day. NowThis's live stream will be hosted by former Nightly Show correspondent Jordan Carlos, so this is probably the outlet for you if you're looking for something a little off the beaten path as far as coverage goes.
Vox — Vox.com's Liz Plank is going to be hosting coverage from Clinton's rally at New York's Jacob K. Javits Convention Center on Facebook.