5 TV Episodes to Distract You From Our Election Hellscape
From 'Parks and Recreation' to 'The Wire' to 'Veronica Mars,' here's how to distill your election blues into fiction.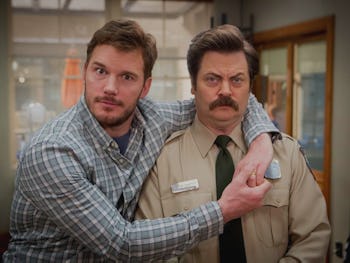 NBC
The American presidential election is making it feel as if the world has fallen into an alternate reality and not in a fun way. Just checking the internet is enough to induce various levels of stress and panic — much less turning on the news. Although you usually don't want to see similar subject matter in your escapism, this election is so absurd that fiction might actually be the best coping method. Luckily, plenty of smart TV shows have taken their own stabs at it. Yes, obvious shows like Parks and Recreation, but also some sci-fi shows you wouldn't necessarily associate with elections. Here are the best television episodes you should turn to.
1. The Wire
Despite its lack of accolades, The Wire is widely considered to be one of the best television shows of all time. Its election episode naturally has a place on this list, then. Not only was it ahead of the Emmys, but its laser focus on societal corruption on a micro, institutional level is unparalleled. Season 4's sixth episode "Margin of Error" deals with something we are very familiar with this election season: polling. Although this particular election is a mayoral primary, it still resonates.
2. Parks and Recreation
Parks and Recreation has been hailed as having predicted the 2016 American presidential election for good reason. The twentieth episode of Season 4 features a debate between a competent yet disliked woman (Leslie Knope, played by Amy Poehler) and a clueless man who has gotten everything he's ever wanted in life. (Bobby Newport, played by Paul Rudd). It's eerily familiar, and yet it makes you laugh a hell of a lot more.
3. Community
Community tackled many of our wider societal problems in it madcap, irreverent, satirical way. It turned its focus on everything from the way we talk about STDs ("The Politics of Human Sexuality") to nerd culture ("Advanced Dungeons & Dragons"). Season 2, Episode 17, "Intro to Political Science" not only features a weird secret service sexual subplot — which should be reason enough to tune into an episode — but it also tackles the election trope with humor and wit.
4. Veronica Mars
The gone too soon teen-noir Veronica Mars is an unlikely contender for an election story, but it expertly covers the subject in Season 1's "Return of the Kane." In it, Kristen Bell's detective Veronica investigates a possibly rigged student election. Much like America's 2000 election, the popular-vote candidate loses and foul play is suspected. Luckily, unlike reality, this episode contains a clever final twist.
5. Battlestar Galactica
When you think of election television episodes, you probably don't think of a sci-fi space opera like Battlestar Galactica. But the Season 2 finale "Lay Down Your Burdens" has an election that involves rigging. Intriguingly, what tips the balance is not an FBI announcement, a court case, or a scandal, but a discovery of a new planet. It puts this election's scandals into perspective … a bit at least.
Now go vote so that this year does not end up as the series finale of America.