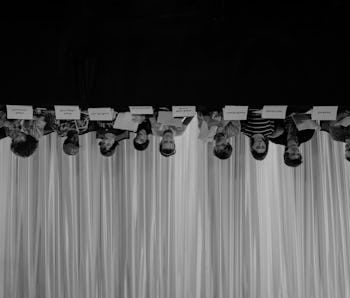 Entertainment
El Is Back in the First 'Stranger Things' Season 2 Cast Photo
But why is it upside dow- ... ohh, now we get it. 
Facebook / StrangerThingsTV
Eleven is back, but we'll have to wait and see if she's in the real world or the Upside Down when Stranger Things Season 2 hits Netflix next year. The official Stranger Things Facebook page posted an appropriately positioned upside down photo of a table read featuring the main adolescent cast members lined up for the second season. The also upside down caption reads: "Back in production. See you next year. #strangerthings."
There's been a lot of speculation on whether actress Millie Bobby Brown's Eggo-eating character would be back, and this photo definitely confirms her return. But that's not all. The "Last Supper"-esque photo also features Season 2 newcomers Dacre Montgomery and Sadie Sink positioned at opposite ends of the table.
Montgomery is playing Billy, a character who "steals girlfriends away from their boyfriends, is great at drinking games, and drives a black Camaro. But lurking under his apparent charisma, is a violent and unpredictable nature." His seating assignment next to Joe Keery's Steve Harrington (with his arm resting on Natalia Dyer as Nancy Wheeler) suggests that they're probably best buds who are up to no good.
On the opposite end of the table, next to Mike (Finn Wolfhard) and his best friends, is actress Sadie Sink who will portray rabble-rouser tomboy Max. She's described as "a tough and confident girl whose appearance, behavior, and pursuits seem more typical of boys than of girls in this era. She has a complicated history and is generally suspicious of those around her."
Here's a look at the photo right-side up with a look at Brown, Montgomery, and Sink:
The black-and-white in-production peek at the main cast is reminiscent of another similar photo of a highly anticipated sequel. They released a roundtable look at all the actors in The Force Awakens when that movie went into production. Hopefully Stranger Things Season 2 can be a similarly successful sequel.