The New 'Lego Batman' Trailer Is So Good It Makes Joker Cry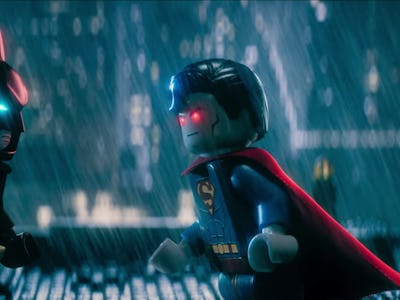 YouTube.com/Warner Bros. Pictures
Who could have guessed that 3D-animated Danish toys would give the world its greatest Batman story to date? Will Arnett's turn as the Dark Knight in the The Lego Movie has inspired a solo film, and Lego Batman's newest trailer is both hilarious and a loving tribute to DC's most beloved superhero.
A spin-off of the Oscar-snubbed The Lego Movie, Lego Batman sees Will Arnett return in a solo adventure which introduces his Bat-family: Batgirl (Rosario Dawson) and Robin (Michael Cera) join Batman's crusade for the first time. The trailer also has appearances by Batman villains Joker and Superman — and yes, Superman is Batman's true nemesis, which breaks Joker's heart. Batman assures him that he's just "fighting a few different people" right now. "I like to fight around," he says.
The Lego Batman Movie, which will be released February 2017, centers on Batman — who normally works alone — having to welcome others if he wants to save Gotham City from the latest hostile takeover from the Joker. Robin ditches pants and Barbara Gordon becomes Batgirl, in the directorial debut of Robot Chicken director Chris McKay, who was the animation co-director on 2014's The Lego Movie.
In addition to Arnett, Cera, and Dawson, Zach Galifianakis and Jenny Slate play the Joker and Harley Quinn, respectively, while Mariah Carey (Glitter) voices Gotham's mayor. Check out the trailer below.
The Lego Batman Movie will be released February 2017.