Why Facebook Blocked Admiral Insurance From Viewing Profiles
Car insurance provider Admiral planned to judge a driver's risk through posts and likes.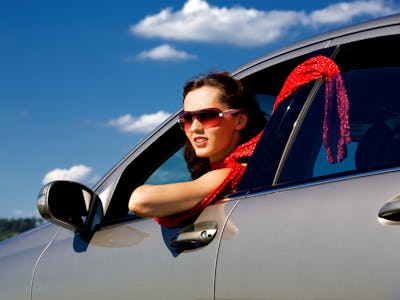 Flickr / instantcarinsurance
While teens may post selfies to Facebook while driving, the social network isn't letting car insurance companies use its information as a way to price rates. Insurer Admiral hoped to view young drivers' Facebook profiles, assess their posts and likes, and possibly offer discounts to drivers that were considered low-risk.
Facebook said it would not allow Admiral to cut rates based on this sort of activity. While this might be sad news for teens trying to save some money, it's an important precedent in Facebook protecting users' private information from being used in real world ways.
Admiral planned to give a "first car quote" to drivers between the ages of 17 and 21 via their app, which they could log into with their Facebook account. After their social media posts were analyzed, motorists would have been offered a 5 to 15 percent discount. Admiral said no rates would be increased after the digital evaluation. It sounds like people would only benefit since nobody was going to be penalized financially for what they do on Facebook, just rewarded.
But allowing this sort of system would have opened a can of worms: Eventually, companies would consider doing similar things with negative effects. People argue that using social media details like this would be unethical.
"In response to today's coverage, we'd like to assure customers Admiral doesn't use social media data to set prices for its policyholders," reads a tweet from Admiral published on Wednesday.
Meanwhile, there are real world repercussions for what happens online. Users of any digital platform need to be cognizant that what they post can come back to haunt them. It's pretty well known that employers use Facebook as a way to screen possible candidates. And there are plenty of cases where people lost their jobs because of a tweet. But these instances are mainly based on what users put online publicly. This situation with Admiral would have almost been like Facebook handing over everything it knows about a person if they allowed it. The social network would be complicit. In other scenarios with unfortunate endings, it's often because the person wasn't mindful of what he or she was posting, and other entities could easily see that content with the access readily available.
Just last week Facebook received criticism after it was uncovered that advertisers could exclude certain ethnic affinities from seeing posts. It makes sense that they would want to take a position where users weren't affected in any way by their algorithms.
Admiral is going through with a modified app. Drivers will still be able to log in with their Facebook accounts and then answer questions which will be used to generate a quote, similar to getting a rate from any insurer. However, Admiral will not be able to give a price deduction based off the person's Facebook profile — just off other criteria.
Situations similar to this are likely to become more prevalent as people's online lives and real lives continue to bleed into one another. While there may be disagreements on whether businesses should be able to use online information to evaluate clients and if so to what extent, the reality is that they're going to. Facebook just wants to stay out of that mess.