Advertisers Can Exclude People by 'Ethnic Affinity' on Facebook Ads 
ProPublica uncovered the social network's discriminatory feature.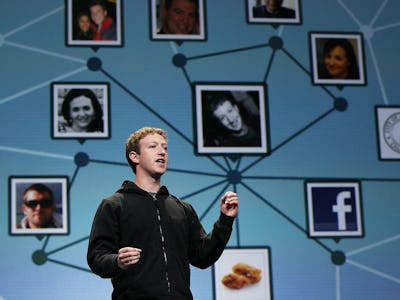 Getty Images / Justin Sullivan
Facebook reportedly lets advertisers exclude users by "ethnic affinity" and various other demographics.
ProPublica uncovered the discriminatory practice in a report that was published Friday.
When advertisers post ads to the social network, they're able to complete a "detailed targeting" form that targets postings to specific groups. But under this feature, there's also an option to exclude people who match a certain "ethnic affinity." These categories include "African American (US)," "Asian American (US)," and "Hispanic (US - Spanish dominant.)"
Facebook has responded to the scrutiny, writing in a statement "We believe that multicultural advertising should be a tool for empowerment. We take a strong stand against advertisers misusing our platform: our policies prohibit using our targeting options to discriminate, and they require compliance with the law. We take prompt enforcement action when we determine that ads violate our policies."
ProPublica was able to successfully post an ad for a housing-related event that excluded anyone with an "affinity" for these minority groups. They have also released what the creation process looked like on the Ads Manager, the backend tool that advertisers use to customize options.
The publication points out that the Fair Housing Act of 1968 makes it illegal "to make, print, or publish, or cause to be made, printed, or published any notice, statement, or advertisement, with respect to the sale or rental of a dwelling that indicates any preference, limitation, or discrimination based on race, color, religion, sex, handicap, familial status, or national origin."
A civil rights also lawyer even called this practice "massively illegal."
Christian Martinez, Facebook's head of multicultural, posted a response to the scrutiny. In the post, he uses hair-care products that are designed for black women to explain this sort of advertising process.
He writes, "That merchant also may want to exclude other ethnicities for whom their hair care products are not relevant — this is a process known in the ad industry as 'exclusion targeting.' This prevents audiences for community-specific ads from seeing a generic ad targeted to a large group and helps avoid the offensive outcome that traditional advertising can often create for people in the minority."
It's pretty general knowledge that Facebook uses the information it knows about users to place oddly specific advertisements on their home feeds. This practice has been something sort of joked about, while now proving to be rather disconcerting. Many people have brushed off the fact that the social network might be serving up ads based off certain interests liking pages of certain television shows and retailers, but using "ethnic affinity" as a means of exclusion is essentially racist.
Another problem with Facebook classifying people by their "ethnic affinity" is that they're assuming certain interests are attached to certain communities. There's no place for Facebook users to input their racial identity like their job or hometown. So that must mean that behind closed doors the social network is postulating that because someone likes pages such as "Luke Cage" and "Black Lives Matter," they must fall under African-American. While there may be some truth to this, it's a horribly crass way to label people.
Furthermore, it's no new practice for advertisers to aim their marketing campaigns to certain minority groups. But playing a commercial with Spanish-speakers during a Jane the Virgin break to try to reach a certain demographic is nowhere as insidious as actively blocking an ethnic group from seeing advertisements.
Companies obviously want to make money and are thinking of new ways to reel in minority groups that have largely been ignored. And as social networks become a place to directly advertise to people, there needs to be ethical tools as opposed to ones that continue to marginalize these people.
This story has been updated to provide comment from Facebook.