Why 'The Fall' Should Be Your Fall Crime Show
Season 3 just debuted on Netflix, and it's never been a better time to get into the show.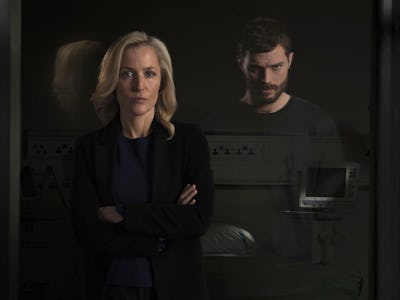 BBC Two/RTÉ One/Netflix
Somber-faced investigators examine a dead woman whose body is arranged in a way suggesting a murder tinged with sexual fetish. You have seen a variation of this scene before in almost every crime drama, but Irish drama The Fall addresses it in a refreshingly whip-smart way.
The show stars Gillian Anderson as the no-bullshit investigator Stella Gibson and Jamie Dornan as serial killer Paul Spector. When the first season came out in 2013 (in Ireland) and 2014 elsewhere, audiences didn't know what to make of it. It was a typical cat-and-mouse game in an intriguingly atypical setting (Belfast), but the air between Gibson and Spector was disconcertingly charged. The show's dark sexuality was far more deliberate and provocative than your average crime drama: Season 1's most memorable sequence involved the camera cutting back and forth between Spector sensually bathing the dead body of a victim while Gibson seduced a man who bore a striking resemblance to Spector.
Gibson's forthright sexuality made it a feminist show in any genre, much less one that too-often strays into glorifying dead women.
"In a lot of crime drama on TV and in a lot of books, women are just there as a token victim," crime writer Colette McBeth recently said. "The women are often just a foil to some psychopathic man who's on the rampage. You see that a lot in television dramas, and I just think, 'Do they all sit around and think of ways to kill women in more and more violent methods?'"
At the end of its third season, the answer for The Fall is a resounding no. In fact, the only bodies to fall are male. Thanks to Dornan's stellar acting, the viewer still sympathizes with him. Thanks to the show's sly framing — workout scenes; shower scenes — his sexuality takes over for the genre's usual emphasis on the female body. But, things don't stop at inverting the tropes. The show calls the audience out for it.
"Why the fuck are you watching this, you sick shit?" he says directly into the camera at the end of Season 2.
His words are meant to provoke the investigators, but they also speak to the audience. Why do we love murder stories? Why do we remain fascinated by serial killers? Why do we secretly kind of want Paul to get away with it?
Just as Westworld is the meta sci-fi show capturing the collective imagination this fall, The Fall is the most meta crime show. Season 3 is the weakest of the set because it takes a weird psychological pivot and tries to simultaneously make Paul answer for his actions and get away with it, but the wrenching finale brings the story to the only inevitable close it could have had. Neither characters nor audience escapes unscathed from indulging in this story.
All three seasons are on Netflix, and though it is currently unclear if there is a fourth in the works, the story is complete. If you're looking to curl up and watch a tense, excellently told murder story unfold while the leaves outside turn brown and a chill is in the air, The Fall is a must-watch.