'Spider-Man: Homecoming' Will Look Like an Actual High School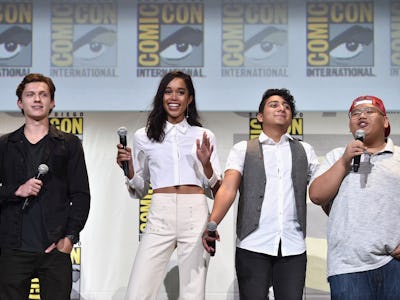 Getty Images / Alberto E. Rodriguez
Increasing ethnic and racial diversity in a Spider-Man movie isn't just about appeasing a liberal audience: It's about making the film more faithful to real life. While making Spider-Man: Homecoming, the debut Spider-Man solo film within the Marvel Cinematic Universe, director Jon Watts used real high schools as references to get Spidey's corner of Queens looking believable.
"Our filmmaker [Jon Watts] came in and had pictures of real high schools, and they are as diverse as you could imagine," said Marvel Studios exec and architect of the MCU, Kevin Feige. "That was something that was important to us, to set it apart from other Spidey films that have been made — to carve that niche — and to have it represent the world today."
Aside from Tom Holland, Homecoming features new up-and-coming young actors like Tony Revolori as Flash Thompson, Jacob Batalon as Ned Leeds, Laura Harrier as Liz Allan, and R&B recording artist Zendaya as Mary Jane Watson, who for decades was a white, redheaded girl in the comics, TV, and feature films. These kids flesh out Peter's high school, which is a crucial point in Watts's mission to make Spider-Man: Homecoming a teen movie with "a John Hughes sort of tone."
Other actors of color in Homecoming include rapper, Atlanta star, and soon-to-be Lando Donald Glover; Bokeem Woodbine; Kenneth Choi as Peter's high school principal; Selenis Leyva; Michael Mando; Ghanaian-born Abraham Attah (Beasts of No Nation); and Jona Xiao.
Said Feige: "I think that in the movies we've already made, and certainly in the movies that are coming up, it will be as inclusive a group of characters as one could want." Great! So when will Ms. Marvel and Totally Awesome Hulk get their movies?
Spider-Man: Homecoming releases on July 7, 2017.