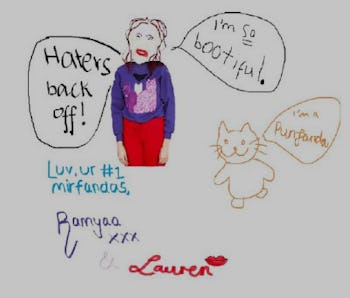 Entertainment
Miranda Sings Is the Ultimate Expression of Ironic Teenagers
They get the joke! Do you?
Miranda Sings
If there's one thing we've learned from trudging through the miasma of this mortal coil, it is this: Never, ever underestimate the power of a rampant teenage fanbase.
There are few people in this era who know — and have profited from — this maxim more than Colleen Ballinger, the comedian and actress whose Miranda Sings character has progressed from cult hit on YouTube to breakout Netflix series. She has spent ten years playing the painfully untalented YouTube karaoke character Miranda Sings whose trademarks are her bright-red lipstick and relentless ambition. She speaks to her young followers, no doubt, and also actively encourages them to participate in encouraging this trainwreck, creating a wink-wink campaign run on social media and irony.
"If you like the video, give it a thumbs up and comment on what you want to see next," Miranda, wearing sweatpants and slurring her words, suggests at the end of each of her videos. It serves two purposes: She's parodying the desperate YouTubers that want to develop a following over all else, but it's also critical to her continued success. The fans always comply — depending on the moment, it could be a request for a cover of the newest Adele song, a reaction to a popular online video or video game, a YouTube style haul video — and sure enough, the request will be honored when it's submitted by enough users. Miranda has also been active in the YouTube community, creating videos with major personalities like GloZell and Tyler Oakley.
While Ballinger's efforts to engage fans as herself outside of the Miranda character have been somewhat successful, her interactions with "Mirfandas" in character are the more compelling ones. Since Miranda herself is a parody of the big-eyed, low-talent personalities that tend to emerge from YouTube more often than bona fide superstars, begging for attention and validation from the internet at large is a part of the joke. Sure, the fans are absolutely in on it, no matter how young — Miranda's mediocrity is just as apparent in the act as her aggressive confidence. Does that stop them from engaging in the ironic and lending their full support? Absolutely not — in fact, they're full participants in the character's success.
For evidence, look no further than the opening sequence to Haters Back Off!, Ballinger's well-received Netflix series. A wall full of fan art, much of it from actual Mirfandas, decks out Mirandas bedroom walls in all their crayoned glory. Asking for fan art submissions was a part of the character's regular list of pleas for attention in the early days, and continued as Ballinger began to sell out tours and rack up millions of views. Another fan favorite is Miranda's habit of reading hateful YouTube comments, some from people genuinely not familiar with the character and others who are baiting Miranda for fun. Videos of her opening fan gifts that have also racked up millions of views.
Of course, Ballinger also has a promotional team whose priority is keeping the kids involved in the movement at all costs. Part of this gimmick has been rolled into the tour, involving fans in a summer camp theme one year and taking live fan calls the next. The best fan empires today are built on direct connection, and it's a lot of what Ballinger's fame hinges on; in addition to welcoming fans into her everyday life, she performs as Miranda directly to her audience. Haters Back Off! is the character's first try at a proper narrative.
In fact, Miranda's approach to fan engagement is more akin to a sports team's following than a pop star's, because her fans' engagement is critical to the character's success. Whereas an Ariana Grande or One Direction don't need their following constantly making requests, asking questions and speculating about future career moves in order to survive, Miranda does — many of her videos are directly taken from aggregating fan requests and the trends of the YouTube community, or are reaction videos to [fan art] or fan fiction. Of course, she remains in character when critiquing her fans work in her specific, half-literate style.
A true blue fan of any sport goes past loyal viewership and dives into engagement (see: fan leagues, stat crunching, podcasting, etc.) and into a completely constructed social identity. Mirfandas, believe it or not, function similarly — of course, they view everything that Ballinger uploads and attend live events but are also committed to putting in time outside of mere watching to keep the project going through fan art, questions, and requests. This ties in well with McCall and Simmons's 1986 "role-identity theory," one that is built on the foundation of individuals (in this case, fans) basing their behavior on how they want to be seen by others. Requests for participation in Miranda's act make young fans feel like they are a part of the funny, even if they are only playing into it, and so making good on the behaviors requested of them helps construct this image of self.
Now that Miranda has taken a step outside of her internet personality — even if the premise of Haters Back Off!, a narrative about the character seeking internet fame is a little meta — what is the next step for fan engagement? If her recent online activity is any indication, it's back to business. Since the show's debut, Miranda has returned to her roots by posting meme videos of her doing the juju on that beat dance and reactions to porn videos. The fans are back to normal, as well: They're asking for Miranda to do videos of her playing popular video game Five Nights at Freddy's, making requests for songs and makeup tutorials like they would any other YouTube stars.
And so the Mirfandas return to their natural state. It's almost like Haters Back Off! never happened, if the YouTube and fan reactions are any indication. Is this the curse of the YouTube star, or how things should be?