Colleen Ballinger's Cults of Personality and 'Haters Back Off!'
For nearly a decade, the actress has been cultivating two iconic images.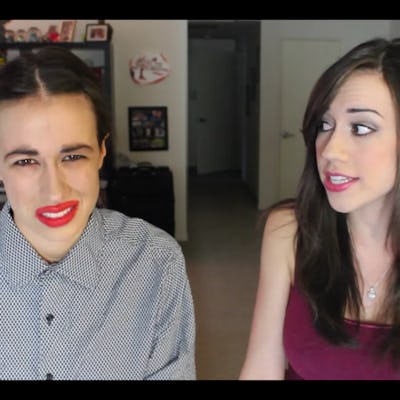 YouTube
Haters Back Off! premiered on Netflix last week to mixed reviews from the critics but universal love and support from the star's core fanbase. Her fans include thousands of people, cultivated over the course of a decade by writer-performer Colleen Ballinger, who shot to fame on YouTube playing the overly confident mediocre queen of lipsyncing, Miranda Sings.
No matter your opinion on the series itself, Ballinger's rise to prominence is a lesson in how to build a successful career online using a character, while keeping her own name and personality well in the picture. While Haters Back Off! is fully Miranda Sings — a narcissistic, fame-hungry teenager with an attitude problem and a blatant disregard for liplines — Colleen Ballinger very much remains in the picture. So, how did she go from twenty-one-year-old recording low-res videos between dead-end jobs to a TV shows selling out auditoriums around the country? Let's get into the cult of personality.
Scratch that. In Ballinger's case, it is an cult of two personalities — Miranda Sings, and Colleen Ballinger herself. The actress, who's also trained in improv, still retains her original YouTube usernames, MirandaSings (character channel) and PsychoSoprano (Colleen's channel), and uploaded her first video as Miranda Sings during Christmastime in 2007 when she was twenty-one. At the time, it was a parody of people she knew in school whose vanity and confidence outweighed their ability, resulting in a pretty embarrassing, overwrought rendition of "White Christmas." At that time, the Miranda character and Ballinger were more or less indistinguishable — it would be several months later that the makeup and signature stink-eye would come into play.
According to Ballinger, the Miranda Sings character was born in the hate mail she found in her YouTube comments, for those who misunderstood the joke.
"Whatever haters didn't like, I would do more of in the next video," she told Elle in a recent interview. As Miranda got more ridiculous, Ballinger got more real.
For the next eight years the actress would intersperse her real personality and vlogs of her family and daily life with Miranda Sings videos, and as her fanbase grew in the early 2010s and she began to tour, the fondness for both Miranda and the woman behind her. Also, the fact that she was inexplicably good friends with Ariana Grande didn't hurt.
As Miranda Sings's videos got more cartoonish and popular in even measures, Ballinger put more emphasis on professional depictions of her personal life, transitioning from the more traditional home videos with formally staged videos with her family and then-boyfriend, Josh Evans. Between her two channels, Miranda Sings and "Colleen's Corner," a segment in which she'd address her audience directly and answer viewer questions about her life and Miranda, were released in about even proportion. Ballinger also collaborated with other big YouTube personalities like Glozell and putting together her own Sassy Dances.
By 2013, Ballinger had firmly established millions of fans who didn't just tune in to see what Top 40 song Miranda Sings was croaking through that week - they were interested in what Colleen was doing in her life and career, as well. Fans lost their minds as Miranda Sings toured just as much as when Ballinger got engaged to her boyfriend Evans in 2014, celebrated the announcement of Miranda's series as much as the Ballinger-Evans wedding in 2015.
By the time Haters Back Off! was released last week, Miranda Sings had 7 million subscribers on YouTube and Ballinger's personal channel had 4 million. Miranda had reached a peak in the release of her series, just as Ballinger suffered a personal tragedy — she and Evans recently posted videos acknowledging their pending divorce, after a year of marriage. In spite of the different natures of these events, they were both shared in an equally public way.
For nearly a decade, Ballinger has opened her life to her fans, while continuing to develop the iconic Miranda, tour and ultimately create her own series. It's a distinctly 2016 story with its ups and downs, but hey — she's making it work.